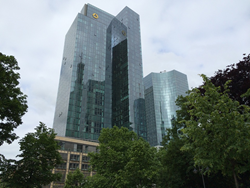 FRANKFURT, Germany (PRWEB) January 31, 2018
California based Blockchain company, HashCash Consultants and Germany's CommerzBank is collaborating on building a Blockchain based cross-border payments system on HashCash's blockchain network, HC NET.
HashCash's banking applications that operate on HC NET are used by banks for cross-border remittances, business to business payments and for managing trade finance activities.
CommerzBank would be able to leverage the network's reach to partner with banks and corporations in corridors which were previously inaccessible.
This would make sending money to beneficiaries in key remittance corridors instant, low cost and more secure for the bank's retail customers.
Additionally, the corporate customers of the bank would experience a far shorter cycle time for the underwriting process, instant authentication of trade finance documents and the possibility of eliminating document fraud to zero.
This is not CommerzBank's first headway in this space. In the later part of last year, CommerzBank, MEAG and KfW Banking group jointly replicated the trading of Euro commercial paper on blockchain. The security was issued by KfW and sold to MEAG directly without using an intermediary such as a clearing system saving the parties time and cost.
Hashcash added some of the largest financial organizations this year such as UAE Exchange, CommBank, Australia, Russia's Alfa-Bank, India's Yes Bank and Federal Bank among others.