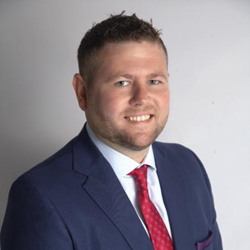 HFRI's leadership, expertise, and service offering align perfectly with my goal of partnering with a company committed to delivering value and solving "real" problems for organizations looking to uncover more cash. I am beyond excited for the opportunity to serve and to share the HFRI story!
Chicago, IL (PRWEB) February 12, 2018
Mr. White joins the HFRI team with 12 years of healthcare revenue cycle and business development experience. Josh began his career in client services for one of the nation's largest hospital providers. In 2014, Josh embarked on a sales career with a healthcare debt purchasing company, where he gained a reputation as a top-tier producer. This addition comes on the heels of HFRI naming Joe Bufano as Chief Revenue Officer (January 2, 2018). "The opportunity to add Josh to our team is one I jumped at. Having worked together for nearly 4 years, I know Josh's work ethic, character, and his passion for doing right by his clients and company. I look forward to us achieving great successes and having a tremendous amount of fun doing it," stated Bufano. Jerry Connelly, HFRI's CEO added, "HFRI is already one of the fastest growing revenue cycle companies in the country, and with the addition of Josh, we expect that trend to accelerate. We are fortunate to continue to expand the HFRI team with some of the top revenue cycle professionals in the business".
Mr. White joins the client development team of Bufano and Justin Orsini (Director of Client Development, Western Region). His duties as RVP will be to increase the company's market presence in the Midwest region, as well as potentially open up new target areas. To contact Josh, please email him at jwhite(at)hfri(dot)net.
About Healthcare Financial Resources:
Based in Elgin, IL, HFRI partners with providers to increase cash collections, decrease unpaid/underpaid claims and reduce denials. Our customized business office solutions combine experienced/well-trained staff and focused workflows, with client-integrated systems and technology. The result is more cash, as well as improved overall revenue cycle performance. HFRI is HITRUST CSF certified and has a proven track record of maximizing reimbursement from third party payors, delivering an excellent customer experience and lowering net cost to collect.