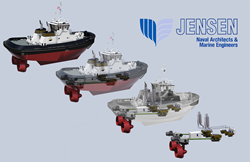 Our work reflects our commitment to innovative, environmentally friendly design combined with powerful, high-quality performance.
SEATTLE (PRWEB) January 29, 2018
Jensen Maritime, Crowley Maritime Corp.'s Seattle-based naval architecture and marine engineering firm, was recently selected to provide the design for Baydelta Maritime's new 100-foot, Z-Drive hybrid tugboat. It will use Rolls-Royce hybrid technology and represents the first installation of a hybrid system for Nichols Brothers Boat Builders (NBBB), and the first hybrid tug designed by Jensen to enter the construction phase.
"Jensen is proud to have been chosen as the design firm on this project, and we look forward to seeing the vessel through from concept to completion," said Bryan Nichols, director, business development, for Jensen Maritime. "We are pleased to be working with long-standing partners Baydelta and Nichols Brothers on this historic build. Our work reflects our commitment to innovative, environmentally friendly design combined with powerful, high-quality performance. This tug will meet the industry's demand for strong, yet nimble vessels with the quality design that customers expect from Jensen."
Scheduled for delivery in the first quarter of 2019, the tug will feature the same ship assist and tanker escort capabilities of existing Valor class harbor tugs, but with multiple operational modes. The Rolls-Royce hybrid system allows for the vessel to operate direct-diesel, diesel-electric or fully-electric while assisting the large containerships and tankers that operate in U.S. West Coast ports. This concept will save fuel and reduce emissions, while supplying Baydelta with the same power and vessel characteristics needed for their operations. The flexibility provided by the drive system will allow loitering and transit at up to 7-8 knots in electric-only mode, then a bollard pull of 90, or nine short tons, in combined diesel-electric mode.
The tug will be powered by two Caterpillar C3516 C Tier 3 diesel engines, each rated at 1995 kW at 1,600 rpm, supplied by Peterson Power of Portland, Ore.; and by two Rolls-Royce supplied 424 kW electric motors. The Z-drive system, two Rolls-Royce 255FP units, can accept power from the diesel engines, electric motors and from both power sources. The electric motors are powered by three CAT C9.3 generators with 300 kW each, which are 480V three-phase at 1,800 rpm, and one harbor generator, a C7.1 150 kW 480V, three-phase at 1,800 rpm. All four generators will be supplied by Peterson Power.
The tug will have eight berths, and the major equipment on board will include a Rapp Marine electric hawser winch and a single drum tow winch. The tug is designed to carry up to 71,000 gallons of fuel and 4,300 gallons of fresh water. It will have a large pilot house providing all-around visibility; a deckhouse with an open feel; a large mess and lounge area; and accommodations for an eight-person crew.
The tugboat will be ABS Load Line classed and compliant with U.S. Coast Guard regulations, as required at delivery.
About Jensen Maritime
Seattle-based Jensen Maritime Consultants, Inc., is a naval architecture and marine engineering firm owned by Crowley Maritime Corporation. The company offers a diverse range of consulting, design and engineering services developed from more than 50 years of experience working around the world. Jensen is a recognized leader in the design of all types of vessels - particularly workboats, fishing boats and fireboats – and has built a favorable reputation on a long history of successful designs and conversions with close attention to engineering basics. The company's services include detail and conceptual design and engineering, lofting, regulatory and shipyard liaison as well as on-site consulting services and on-location assistance anywhere in the world. For additional information about Jensen, visit http://www.jensenmaritime.com.
For more information about Jensen's parent company, Crowley, please visit http://www.crowley.com.