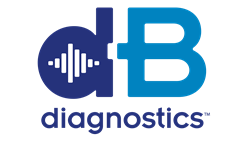 These accomplishments and early successes are very gratifying for me personally and for the evolution of our company." - Dr. Steve Levine, Founder, CEO & President of dB Diagnostic Systems
TRUMBULL, Conn. (PRWEB) January 30, 2018
dB Diagnostic Systems, Inc., a medical device company with a transformative hardware and software platform aimed at unleashing hearing testing and diagnosis onto the front lines of care, today announced its first customers, first patent awards and that it has received FDA 510K Clearance for its Hearing Healthcare Pro™ Product Suite. The company has agreements with several Connecticut providers that are using the Hearing Healthcare Pro including Associated Ear, Nose & Throat of West Hartford and Connecticut Ear, Nose & Throat in Waterbury.
The company received 510K Clearance from the US Food and Drug Administration for Hearing Healthcare Pro, its breakthrough product for testing and diagnosing hearing loss in adults. Hearing Healthcare Pro addresses a growing and unmet need that has been linked to dementia, social isolation and depression among other health impacts. The product was developed by Steven B. Levine, MD, an otolaryngologist in Trumbull and faculty member at the Yale School of Medicine, whose mission is to revolutionize early hearing loss identification processes by engaging non-hearing healthcare providers, in primary, urgent care and other specialty care settings, and improve hearing-related quality of life across all populations.
The company was also notified by the US Patent and Trademark Office that its first patent for the Hearing Healthcare Pro has been granted and that two additional patent applications are pending.
"These accomplishments and early successes are very gratifying for me personally and for the evolution of our company," said Levine, Founder, CEO & President of dB Diagnostic Systems. "We could not have achieved these very significant milestones without the dedication and hard work of our team, including our many advisers and early investors. It is an honor and privilege and we believe this is just the beginning of many future successes."
The company's first customers – several independent ENT practices with multiple locations in Connecticut -- chose Hearing Healthcare Pro to supplement their ability to test and diagnose hearing loss either when an audiologist is not available and/or to fill a gap in their satellite locations. "We see Hearing Healthcare Pro as a cost-effective, easy-to-use and high-quality complementary tool for our practitioners to effectively and more consistently diagnose more patients across our practice environment," said Dr. Neil Schiff of Waterbury-based Connecticut Ear, Nose & Throat. Dr. Todd Zach of Associated Ear, Nose & Throat in West Hartford added, "This technology is good for patient care and good for our practice!"
The US Food and Drug Administration (FDA) gave dB Diagnostic Systems its 510K Clearance on August 1, 2017 following a comprehensive and lengthy review. The company subsequently debuted the product at the annual American Association of Otolaryngology-Head and Neck Surgery (AAO-HNS) conference in Chicago this past September, receiving strong interest and praise for the product. Several months later, the company received its first patent (US Patent No. 9,826,924) followed by orders from ENT practices in Connecticut, thereby achieving that rare start-up accomplishment – A Triple Crown.
Levine continued, "The Company continues to make strong progress within the ENT space and has recently moved closer to securing contracts with other early-adopters, a safety-net health system provider, several independent primary care practice organizations and some multi-site ophthalmic providers. Interest in our product continues to grow across the provider landscape. We are exploring a host of opportunities to partner and collaborate with organizations that can assist us in variety of ways, from studying the impact on patient satisfaction, impacting outcomes and the bottom line."
For information about dB Diagnostics Systems, Inc. http://www.dbdsys.com
For information about Associated Ear, Nose & Throat https://www.ctentdocs.com
For information about Connecticut Ear, Nose & Throat http://www.connecticutent.com/