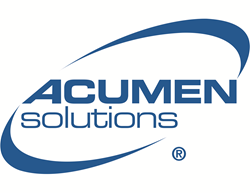 We are seeing tremendous demand for Salesforce-related services across the globe, not just in volume, but also in sophistication. - David Joubran, Acumen Solutions
McLean,VA (PRWEB) January 30, 2018
Acumen Solutions and Avanxo today announced a strategic partnership that is focused on expanding delivery of industry-specific cloud solutions throughout Latin America. According to Research and Markets' Cloud Computing Market in Latin America 2016-2020 report, the cloud computing market in Latin America is forecasted to grow at a CAGR of 10.16% during the period 2016-2020. In recognition of the growing market, Acumen Solutions and Avanxo will partner with commercial and public sector customers to help accelerate growth by leveraging cloud technologies and solutions.
Acumen Solutions, a Salesforce Global Strategic Partner, and Avanxo, a Salesforce Platinum Consulting Partner, both have many years of experience in the Salesforce ecosystem. Working together with Salesforce, the companies will be able to offer customers comprehensive industry solutions and deeper cloud expertise with Salesforce products, such as Marketing Cloud. The new partnership will bring together Acumen Solutions' industry and Salesforce expertise, and Avanxo's in-region experience, accelerating the ability to meet the growing demand for cloud-based solutions.
With proven Salesforce solutions across industries, customers will benefit from innovative solution accelerators such as Correspondence Management and Any Channel Engagement (ACE) Centers for public sector, and Integrated Sales Forecasting for manufacturing. The companies will also focus on expanding commercial industries, such as Retail and Consumer Packaged Goods, and will support highly complex projects requiring specialized Salesforce expertise.
"We are seeing tremendous demand for Salesforce-related services across the globe, not just in volume, but also in sophistication. By partnering with one of the top Salesforce partners in Latin America, we are looking forward to sharing our expertise with this growing market," said David Joubran, CEO of Acumen Solutions.
"Given the extraordinary growth we are all seeing, we are confident that the partnership between Acumen Solutions and Avanxo creates a huge opportunity to bring robust industry-specific solutions to customers and expands the Salesforce Platform footprint in the region," said Diego Maldonado, CEO of Avanxo.
About Acumen Solutions
Client choose Acumen Solutions for one simple reason: our experience delivers success. Joining forces with our clients, our teams of strategists, subject matter experts, and engineers solve problems that can't be fixed by technology alone. As a Salesforce Global Strategic Partner, the Fortune 500 trust us to build solutions that grow revenue and strengthen customer relationships. Our groundbreaking solutions in the public sector streamline options and improve productivity. We apply the same expertise to our social responsibility program, generating sustainable impact across our local communities.
About Avanxo
Avanxo is one of the top Salesforce Platinum Consulting Partners in Latin America, delivering cloud solutions since 2004. With strong professional services experience, Avanxo has led more than 500 cloud projects in Latin America, United States and Canada. Avanxo's multi-cloud solutions are powered by leading cloud technology providers such as Salesforce, Informatica and Amazon Web Services. With local operations in Brazil, Mexico, USA, Colombia, Argentina and Peru, Avanxo can support projects and initiatives throughout the Americas.
###
Salesforce, Marketing Cloud and others are among the trademarks of salesforce.com, inc.