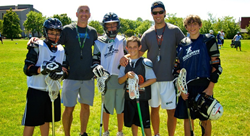 Xcelerate Nike Lacrosse Camps provide campers the opportunity to learn from some of the most respected coaches in the nation.
SAN RAFAEL, Calif. (PRWEB) January 29, 2018
Xcelerate Nike Lacrosse Camps provide players of all positions and skill levels an opportunity to learn from some of the best coaches and players in the game. Xcelerate's innovative and skill driven curriculum is designed specifically to provide campers the tools to improve and refine every aspect of their game. On a daily basis, Xcelerate Lacrosse challenges campers in a positive, respectful, and fun-filled summer camp environment, enabling them to build confidence, experience success, and showcase their newfound skills.
"Xcelerate Nike Lacrosse Camps provide campers the opportunity to learn from some of the most respected coaches in the nation," says Steve Anderson, Founder of Xcelerate Lacrosse. "We provide a nice balance of experienced senior staff members, highly skilled professional players, enthusiastic recent college graduates, and current college players. Their coaching credentials are outstanding: All-Pros, All-Americans, Hall of Famers, Coaches of the Year, and All-World players."
This summer, Xcelerate is offering 18 overnight lacrosse camp locations for boys and girls ages 10-18 across the country. Camp locations include: Auburn, AL (Auburn University); Vail, CO (Vail Mountain Lodge); Atlanta, GA (Emory University); Young Harris, GA (Young Harris College); Highland Heights, KY (Northern Kentucky University); Albion, MI (Albion College); Northfield, MN (St. Olaf College); Liberty, MO (William Jewell College); St. Louis, MO (Saint Louis University); Amherst, NY(University at Buffalo); Charlotte, NC (UNC Charlotte); Cleveland, OH (Baldwin Wallace University); Delaware, OH (Ohio Wesleyan University); Corvallis, OR (Oregon State); Columbia, SC (University of South Carolina); Nashville, TN (Vanderbilt University); Georgetown, TX (Southwestern University); Tacoma, WA (Pacific Lutheran University).
At Xcelerate Nike Lacrosse Camps, campers' skill level and overall team play will dramatically improve over the course of the camp week. Every field position is covered during camp: Attack, Midfield, Defense and Goalie. From the beginner to the elite lacrosse player, these camps provide a challenge to every camper.
Coaches, Parents, and Campers interested in the 2018 Xcelerate Lacrosse Camps can visit http://www.ussportscamps.com/lacrosse/xcelerate or call 1-800-645-3226.
About US Sports Camps
US Sports Camps (USSC), headquartered in San Rafael, California, is America's largest sports camp network and the licensed operator of Nike Sports Camps. The company has offered camps since 1975 with the same mission that defines it today: to shape a lifelong enjoyment of athletics through high quality sports education and skill enhancement.