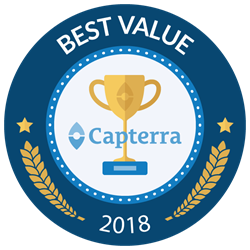 We strive to offer the latest features, intuitive design, and the best support - all at a price that's affordable.
HERNDON, Va. (PRWEB) January 30, 2018
SoGoSurvey, a leading online survey provider, has been awarded Capterra's Best Value badge. Following 2017 awards in three other categories – Most Popular, Most Affordable, and Most User-Friendly – this is SoGoSurvey's first honor in 2018.
Badges were awarded based on reviews from SoGoSurvey users. Capterra, a Gartner company, has over 260,000 vetted user reviews spanning 500+ software categories. The "Best" badges recognize the most highly rated products by users in a given software category. These badges aid in end users' software research and enable them to make more informed purchase decisions.
"For us, providing a powerful survey tool is only part of our mission. We strive to offer the latest features, intuitive design, and the best support - all at a price that's affordable," said SoGoSurvey CEO Hamid Farooqui. "This commitment to our customers is the reason we're the most frequently reviewed survey software on Capterra and maintain a perfect score of 5 stars," he added.
Capterra reviewers praised the variety of question types available, the drag-and-drop feature for building a questionnaire, and the options for exporting. Additional reviewer feedback included loving the reporting and analysis features of SoGoSurvey.
"We're in the business of feedback, and we're always happy to hear from our customers, too," said Farooqui. "This recognition really belongs to them, and we're going to keep doing everything we can to maintain their trust."
Users around the world employ SoGoSurvey to carry out survey, assessment, and poll projects in numerous industries and to achieve a wide range of academic, business, and research goals.
About SoGoSurvey
Founded in 2013, SoGoSurvey is a leading online survey provider with global offices in 3 countries. We created SoGoSurvey to end the frustration of online survey tools that either don't work or break the budget. It's no wonder that 79% of our customers switched to us from other companies.
SoGoSurvey's founders are recognized experts and visionaries in the field of survey technology and human/computer interface. The company has been recognized for its innovative technology and thought leadership in using survey data to build trust with customers and employees. In addition to our staff, our customers are a valued part of the SoGoSurvey community, providing feedback and inspiration for product features and design. Please join the SoGoSurvey conversation on Facebook, Twitter or on our website at http://www.sogosurvey.com.
About Capterra
Founded in 1999, Capterra has helped millions of people find the right software for their business - all kinds of businesses - whether a multinational corporation, a school, a church, a doctor's office, a manufacturing company, or a zoo. Capterra works with thousands of software vendors to understand their products in order to match companies with the best software for their needs. Check out http://www.capterra.com to find ratings, reviews, buying guides, and the most comprehensive list of business software products available.