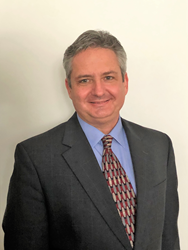 "It is obvious through your interaction with Dr. Walters how much he cares about his patients," says Dr. Liliana Gandini. "It's only been a few weeks and he has already made a positive impact within the practice. We make a great team."
CHAPEL HILL, N.C. (PRWEB) January 31, 2018
Dr. Douglas Walters, an experienced periodontist has joined the NC Periodontics & Implant Center in Chapel Hill, NC at the beginning of this year. Walters joins Drs. Craig Dorion, Liliana Gandini, Waka Kadoma, and Alice Wu to complete the largest and most experienced team of periodontists in the Triangle area.
Dr. Walters has spent the past 5 years working locally in the Triangle area including the cities Raleigh, Fuquay-Varina and Cary. "Moving into this practice allows me to treat patients how they deserve to be treated, with comprehensive personalized care and detailed follow up," says Walters. "The team in the office and the dental community have been very welcoming to me. I am happy to call NC Periodontics & Implant Center my new home."
"Dr. Walters is a very talented surgeon with over 15 years of experience doing all types of surgeries including dental implants, gum grafts, and the laser treatment for gum disease called LANAP," says Taylor Marianakis, Regional Director for the practice. "I have a high-level of confidence in his ability to serve our patients right away."
Doug Walters is a native of Missouri. He has been a North Carolinian since enrolling at Duke University where he graduated with a Bachelor of Arts degree in Political Science in 1987. Following graduation, Dr. Walters worked in corporate finance with Wachovia Bank and Trust Co. in Asheville, N.C.
Heeding a call to serve others, Doug Walters attended dental school at the University of Missouri, graduating with honors in 2000. Walters also completed his residency in Periodontics and dental implant surgery at the University of Missouri. He opened his own practice in Missouri which he ran for 9 years. He is a Diplomate of the American Board of Periodontology (Board Certified). This certification is held by only a small percentage of periodontists and represents achievement beyond the mandatory educational requirements for the specialty. His findings on research regarding the effects of sonic tooth brush energy on the microbiology of the mouth were published in the highly respected Journal of Clinical Periodontology.
Walters continues to advance his clinical knowledge to provide the most appropriate therapy options for patients. His practice focuses on surgical and non-surgical treatment of gum disease, including laser periodontal therapy (LANAP), esthetic gingival treatment, periodontal bone regeneration, dental implant site development and placement, treatment of ailing implants, and diagnosis and treatment of oral lesions.
"It is obvious through your interaction with Dr. Walters how much he cares about his patients," says Liliana Gandini. "It's only been a few weeks and he has already made a positive impact within the practice. We make a great team."
ABOUT NC PERIODONTICS & IMPLANT CENTER
NC Periodontics & Implant Center provides personalized, comfortable care and is serving families in Chapel Hill, Apex, Raleigh, Cary, and Durham, NC. Dr. Liliana Gandini DMD, Dr. Waka Kadoma DDS MS, Dr. Alice Wu DDS MS, Dr. Douglas Walters DDS MS, and Dr. Craig Dorion DDS MPH have a combined 65 years of practice experience and developed expertise in dental implants, sedation, and periodontal disease management. They are board certified periodontists certified in LANAP, sedation, and experts in dental implant surgery. They have dedicated their professional careers to providing patients with the best care dentistry has to offer. For more information, call (919) 336-5068 or visit http://www.ncimplantcenter.com