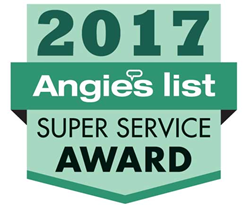 Harvest Power takes great pride in servicing our local community with the highest level of customer service possible.
BAY SHORE, N.Y. (PRWEB) February 05, 2018
For the second year in a row, Harvest Power is proud to announce that it has earned the home service industry's coveted Angie's List Super Service Award (SSA). This award honors service professionals who have maintained exceptional service ratings and reviews on Angie's List in 2017.
"The service providers that receive our Angie's List Super Service Award demonstrate the level of excellence that members have come to expect," said Angie's List Founder Angie Hicks. "These pros are top-notch and absolutely deserve recognition for the trustworthy and exemplary customer service they exhibited in the past year and overall."
Angie's List Super Service Award 2017 winners have met strict eligibility requirements, which include maintaining an "A" rating in overall grade, recent grade and review period grade. The SSA winners must be in good standing with Angie's List, pass a background check, record a current trade license attestation and abide by Angie's List operational guidelines.
"Harvest Power is honored to be presented with the Super Service Award from Angie's List for 2017," stated Carlo P. Lanza, Managing Member of Harvest Power. "Our business is built upon our referrals from our valued customers and the Super Service Award substantiates that. Harvest Power takes great pride in servicing our local community with the highest level of customer service possible. We would like to share this award with our dedicated customers."
Service company ratings are updated continually on Angie's List as new, verified consumer reviews are submitted. Companies are graded on an A through F scale in multiple fields ranging from price to professionalism to punctuality.
For over two decades Angie's List has been a trusted name for connecting consumers to top-rated service professionals. Angie's List provides unique tools and support designed to improve the local service experience for both consumers and service professionals.
About Harvest Power LLC
Harvest Power was established in 2008 as a program of Friendly Construction to help property owners achieve energy efficiency through solar. Today Harvest Power has grown to be one of the largest solar providers in New York State. With over 50 professionals on staff, the company employs engineers, architects, electricians and solar installers who hold a number of key certifications from industry associations and organizations. The entire installation process is handled in-house by the professionals on staff. This includes designing the system, processing any permits, rebates and financing as well as installing and monitoring the success of the solar system. Harvest Power, headquartered in Bay Shore, NY, has stayed true to its original mission... Help property owners achieve their goals of real energy independence, lower dependence on fossil fuels, reduce carbon emissions, and allow clients to enjoy the outstanding, direct monetary benefits of solar power. For more information on Harvest Power, go to http://www.harvestpower.net.
Contact:
Phillip Flora
Harvest Power LLC
631-647-3402
info@harvestpower.net
About Angie's List
For over two decades, Angie's List has provided trusted reviews and information to help millions of consumers make smart hiring decisions. Angie's List offers more than 10 million verified reviews in over 700 service categories, providing its members a credible resource for researching and comparing local service providers. Angie's List is based in Indianapolis, Indiana and is an operating business of ANGI Homeservices (NASDAQ:ANGI).
Contact:
Steffanie Finkiewicz
Angie's List
303-963-8384
mediarelations@angieslist.com