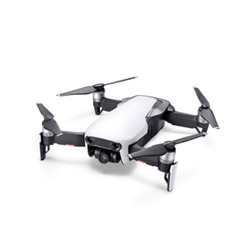 Florida (PRWEB) January 30, 2018
The Mavic Air is a compact intermediate, being positioned in the market between Mavic Pro and Mavic Spark. That's because it has a 20-minute flight autonomy against the Pro's 30, but it has an integrated camera system more advanced than the Spark.
Speaking of cameras, the Air is able to record video in 4K and capture panoramic images of 32 MP.
Like all products on the line, the Mavic Air would have folding arms and propellers for transportation, and would still feature hand-held controls, visual positioning navigation and a set of sensors to help you steer clear of obstacles automatically.
See the following links for two exclusive offers, in white and black