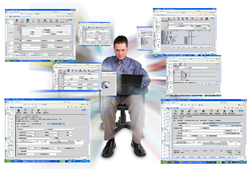 RAM Technologies is an innovative company with a leading solution for healthcare payers.
FORT WASHINGTON, Pa. (PRWEB) January 30, 2018
RAM Technologies, Inc., the perennial leader in the development of enterprise software solutions for healthcare payers, is pleased to announce their strategic alliance with ROC Software to utilize the Maestro job scheduling solution. The addition of Maestro's job scheduling capabilities will provide RAM's health plan clients with greater opportunities to improve workload automation and reduce costs, at a time when everyone in the industry is seeking ways to increase efficiency in healthcare delivery and payment.
ROC Software provides an easy to use, yet powerful job scheduling solution. The Maestro product allows users to automate tasks while providing centralized control of all job scheduling activities. This all in one solution features a small footprint and does not require a team of administrators to implement or maintain.
"We are pleased to be working with ROC Software," stated Christopher P. Minton, Executive Vice President of RAM Technologies. "The Maestro solution will provide our clients with a simplified means to further automate workloads, job scheduling and more. We look forward to delivering these advanced capabilities to our clients in the very near future."
RAM's solutions include HEALTHsuite® Mercato and eHealthsuite™. HEALTHsuite Mercato is a highly adaptable, browser-based solution designed to streamline the administration of government sponsored healthcare programs (Medicare Advantage, Managed Medicaid, Financial Alignment Initiative-Duals, Federal Employee Health Benefits, etc.). HEALTHsuite Mercato provides unparalleled automation across health plan operations including eligibility and enrollment, benefit administration, provider contracting and reimbursement, provider credentialing, medical & utilization management, care management, premium billing, encounter / claims administration, overpayment recovery, customer service, contact management, capitation, subrogation, fulfillment, EDI integration, management & operational reporting and more.
In addition to the enterprise capabilities provided by HEALTHsuite Mercato, RAM's web portal product eHealthsuite enables providers and members to interact with the health plan in real time through a secure Internet connection. This self-service functionality, available 24 x 7, lowers administrative costs by reducing the demands on the health plan's customer service personnel.
"RAM Technologies is an innovative company with a leading solution for healthcare payers. We value their partnership and look forward to many years of successful cooperation between our organizations," said Janet Slack, CEO of ROC Software.
About ROC Software, Inc.
ROC Software develops enterprise output management and job scheduling solutions to help organizations save valuable time and money in managing their business-critical operations. ROC solutions are easy to install on most major platforms including UNIX, Linux and Windows. More than 4,000 customers worldwide depend upon ROC Software for innovative enterprise solutions, rock-solid reliability and outstanding support. ROC Software is headquartered in Austin, Texas. For more information visit rocsoftware.com
About RAM Technologies, Inc.
RAM Technologies is the leading provider of enterprise claims processing software and claims adjudication software for health plans. For over 36 years RAM Technologies has led the way in the creation of Medicaid software solutions, Medicare software solutions and software for dual eligible processing (the Medicare-Medicaid Financial Alignment Initiative). RAM Technologies has been recognized on Inc. Magazine's List of Fastest Growing Private Companies and the Philadelphia Business Journal's List of Top Software Developers for their advancements in the creation of comprehensive claims management software for Medicare and Medicaid administration. To learn more about RAM Technologies' healthcare claims processing and managed care software solutions call (877) 654-8810 or visit ramtechinc.com.