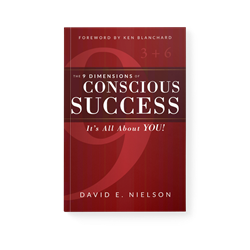 "Thanks, David, for showing us that we are our best selves when we realize there is a better way than trial and error to plot our course in life and achieve our ultimate level of success." - Ken Blanchard, Co-Author of The New One Minute Manager, and Co-Editor of Servant Leadership in Action
EVERGREEN, Colo. (PRWEB) January 30, 2018
David Nielson, an internationally recognized management consultant and speaker, has released a new breakthrough book, 9 Dimensions of Conscious Success - It's All About You! (9DCS) to address the dilemma of how to achieve conscious success by defining your purpose in life and provides a practical process model to realize that success. The new success book, praised by personal success experts including Ken Blanchard, is written for Millennials and for those who manage them, but is relevant for anyone seeking a clear pathway to success in all aspects of life. 9DCS is available now at conscioussuccess.com
9 Dimensions of Conscious Success is unique from other self-awareness books in that it provides a practical process model that can be followed for achieving success. The model consists of 3 foundational elements - purpose, self-awareness, and social-awareness - and identifies the six differentiators that set individuals apart from others - authenticity, work ethic & personal responsibility, listening, articulation, humor, and gratitude.
Author David E. Nielson, founder and CEO of DNA Worldwide, draws upon his unique life experiences as a management consultant, executive coach, and corporate organizational developer, and leveraged custom research data to develop this comprehensive, yet practical model for success. In the book, Nielson uses real-life stories, humor, and a humble approach that connected with audiences of all ages and has attracted the praise of other industry experts.
Ken Blanchard, Co-Author of The New One Minute Manager, and Co-Editor of Servant Leadership in Action, said, "Thanks, David, for showing us that we are our best selves when we realize there is a better way than trial and error to plot our course in life and achieve our ultimate level of success."
9 Dimensions of Conscious Success is supported by a full range of products including assessments, workbooks, workshops and speaking engagement, designed to facilitate success for individuals, managers, and organizations committed to personal and professional development of high-potential talent. The book and 9DCS products and services are available now at conscioussuccess.com
ABOUT DNA WORLDWIDE LLC
DNA Worldwide is a management consulting firm that provides custom organization change management services, executive coaching and leadership development expertise for an international clientele so that change can be implemented with confidence, build internal expertise and capacity, and achieve success at every level within the organization. Utilizing the proprietary methodology - Change Management Essentials (CME) - the DNA approach is straight-forward, practical, focused on bottom line results. For more information: dnaworldwide.net or info(at)dnaworldwide(dot)net
Social Links:
Video Trailer: https://www.youtube.com/watch?v=7qlFuL6nRzM&list=PLhZA34Y-CxjMFbH71VEfv4YgkVmtCmG3h
LinkedIn Profile: https://www.linkedin.com/in/davidenielson/