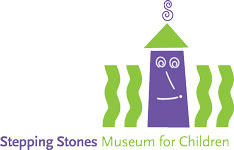 There are over 5,000 families in the Stepping Stones community and we are thrilled to welcome all the new families. - Rhonda Kiest, President and CEO of Stepping Stones
(PRWEB) January 29, 2018
Stepping Stones Museum for Children is thrilled to announce that their partnership with Person-to-Person to provide free museum memberships has been extended through Monday, Feb. 19.
The extension is due to the generosity of the Foster Family Fund. The original program ran throughout December, and the museum sold 483 memberships during that month. Museum officials would very much like to thank all those who made that possible.
Stepping Stones seeks to double their impact and reach their goal of providing 1,000 families with memberships to visit the museum year-round through Open Arms. From now until Feb. 19, every Stepping Stones membership that is either renewed or sold will mean a free membership for a family who may not have access to the museum because of financial barriers. Those families will receive free admission to Stepping Stones for one year along with invitations to museum family events.
With locations in Norwalk and Darien, Person-to-Person provides emergency assistance for basic needs plus other support to individuals and families as they move toward financial stability. The nonprofit envisions communities of financially-stable, hunger-free homes, with educational opportunities for all.
To purchase a new membership or renew a current one, please visit Stepping Stones' website.
ABOUT STEPPING STONES MUSEUM FOR CHILDREN
Stepping Stones Museum for Children is an award-winning, private, non-profit 501 (c) (3) children's museum committed to broadening and enriching the lives of children and families. For more information about Stepping Stones, to book a field trip or schedule a class, workshop or facility rental call 203-899-0606 or visit http://www.steppingstonesmuseum.org.
Stepping Stones Museum for Children is located at 303 West Ave., Norwalk, CT, exit 14 North and 15 South off I-95. Museum hours are: Labor Day through Memorial Day, Tuesday-Sunday and holiday Mondays from 10 a.m. – 5 p.m.; and Memorial Day through Labor Day, Monday-Sunday from 10 a.m. – 5 p.m. Admission is $15 for adults and children and $10 for seniors. Children under 1 are free. Get social with Stepping Stones on Facebook, Twitter or Instagram.