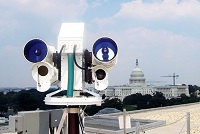 FAIRFAX, Va. (PRWEB) January 31, 2018
Trident Systems is pleased to announce the award of a $17.9M five-year contract from the Air Force Life Cycle Management Center to provide software sustainment for the National Capital Region – Integrated Air Defense System (NCR-IADS) Enhanced Regional Situational Awareness (ERSA) System.
This contract follows a one-year contract awarded to Trident in December 2016 in support of the transition of ERSA software support from MIT Lincoln Laboratory. During this initial contract, Trident stood up a Fusion Center at their corporate headquarters and commenced system support.
ERSA is one of the major systems that protects the National Capital Region at the Joint Air Defense Operations Center (JADOC). Under the new contract, Trident will be responsible for supporting the sustainability needs of ERSA, the operationally fielded software, system upgrades to expand capabilities, and the ERSA Support Center located at Trident's headquarters. Additionally, Trident will be responsible for establishing, developing and maintaining an ERSA Technical Data Package.
"The ERSA effort leverages many of Trident's core competencies including software design and development, cross-domain, and technical support," says Steve Santonicola, Director of Integrated Systems Engineering Group. "Trident is proud to provide operational support of this critical mission in defense of our Nation's Capital".
About Trident:
Trident Systems is a veteran-owned small business that delivers innovative and affordable technology solutions for critical government and commercial needs. Founded in 1985, Trident continues to harness technology and provide leading-edge solutions to every Military Service, the Intelligence Community, and a broad spectrum of government and industry partners. Trident develops products in three primary focus areas: Integrated C4I Systems, Radar & RF Systems, and Assured Collaboration Systems. Trident provides a full range of design / build services for state-of-the-art facilities, including support of the Joint Air Defense Operations Center in the National Capital Region. Trident's headquarters is located in Fairfax, Virginia. For more information, visit http://www.tridsys.com/.
###