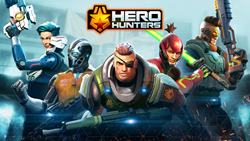 Each hero offers their own unique skills, strengths and powerful abilities that can quickly turn the tide of battle.
VANCOUVER, British Columbia (PRWEB) February 01, 2018
The highly anticipated Hero Hunters, Hothead Games' new team-based, third-person shooter game, has officially launched worldwide on the App Store and Google Play. Now mobile gamers can recruit a powerful team of heroes and join up with friends for incredible and breathtaking battles.
Players find themselves projected 50 years into the future, a decade after "Zero Day", when a biological weapon swept the earth and the world cascaded into a violent war, leading to the collapse of civilization. Players must lead a team of heroes to defeat the villainous warlord, General Kurtz and hunt down his army of lethal "Lawgivers."
In Hero Hunters, mobile gamers are able to quickly and seamlessly switch from hero to hero in the midst of fast-paced action, allowing them to play as whichever hero they want at any time. Whether controlling the archer huntress Artemis, the cyber ninja Odachi, or the heavy weapons specialist Steele, gamers can switch between any of the five heroes they've chosen to take into battle in order to gain a strategic advantage over their enemy. Each hero offers their own unique skills, strengths and powerful abilities that can quickly turn the tide of battle.
With over 40 heroes available, Hero Hunters features the high fidelity graphics and intense shooting action that Hothead Games has become known for, along with inventive team-based gameplay that is unique to mobile gaming.
The extensive campaign mission experience launches with seven regions and hundreds of missions, but there is plenty more to this game. Players can immerse themselves in the single-player mode as they fight against raiders, bandits and worse in a post-apocalyptic cityscape, or join multiplayer action to dominate on the battlefield.
While fighting to restore order and justice, Hero Hunters players can experience these exciting features:
World-Class Gun Play: A cover-based, third-person shooter experience with amazing console-like graphics, featuring modern and futuristic weaponry from sniper rifles to energy guns.
Real-time PvP Tactical Battle Mode: Challenge other players in real-time multiplayer tactical Player-versus-Player combat.
Co-op Boss Raid Mode: Play with friends to battle huge mechs and other epic enemies.
Gauntlet Mode: Beat your rivals in intense time-based event competitions focused on both solo and strategic group play.
Alliances: Join forces with your friends to build an unstoppable military alliance.
Hero Collection: Collect exclusive heroes, each with their own legendary weapons and special abilities, and assemble the best team.
New regions, more heroes and exciting community events are planned in the coming months with exciting social gameplay being the focus of this game.
Availability:
iTunes App Store:
https://itunes.apple.com/us/app/hero-hunters/id1110217724?mt=8
Google Play:
https://play.google.com/store/apps/details?id=com.hotheadgames.google.free.survivors
An official launch trailer is available here:
https://youtu.be/CemNmZ5ueoM
Game assets are available here: https://drive.google.com/drive/folders/1Db-m0IXL-nr5TnO_5g-jLgEb4paqILe8?usp=sharing
About Hothead Games
Hothead Games is one of Canada's largest independent game studios. Founded back in 2006, when our Hotheads barely had cold feet, our goal was nothing less than total world domination. We continue to strive for entertainment in all things, including our award-winning mobile game catalog, our company culture, and even this self-aggrandizing boilerplate that you're reading right now. For more information, visit http://www.hotheadgames.com.
©2018 Hothead Games Inc., Hothead, and Hero Hunters are trademarks or registered trademarks of Hothead Games Inc., all rights reserved. All third party trademarks mentioned are the property of their respective owners.
# # #
Media Contact:
Matt McAllister
Fluid PR
(510) 229-9707
matt(at)fluidspeak.com
Company Contact:
Oliver Birch
Hothead Games
media(at)hotheadgames.com