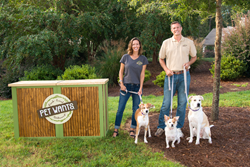 Pet Wants is exciting because the company is really built out one person's search for a better pet food – it wasn't created by a major pet food company just to make money. Every product we sell is focused on the health and wellbeing of the animals. - Simon Cox
GREENVILLE, S.C. (PRWEB) January 29, 2018
Bree Cox has always been passionate about pets and she does what she can to provide the best care for her four rescue animals, including giving them high-quality food. Now she and her husband, Simon, are looking forward to helping other local families feed their animals better food with their new business in Greenville, Pet Wants GVL.
Pet Wants' specially crafted pet food formulas are made in small batches with fresh, natural ingredients enhanced with vitamins and minerals for a complete and balanced diet in every bowl. Pet Wants GVL offers multiple blends of dog and cat food formulas as well as healing salve, calming balm, anti-itch spray, paw wax and more.
Pet Wants GVL's new retail store is located at 1143 Woodruff Road, Suite I, in Greenville. The company also offers free, personal delivery to Greenville, Greer, Mauldin, Simpsonville and the surrounding areas of the upstate.
"Pet Wants is a great option for all sorts of people, whether you have a pet with allergies and health issues or you're just looking for an easier way to buy quality pet food. It's all about high-quality food with the convenience of a local store and free delivery," Bree said.
Bree graduated from the University of South Carolina with a business major and has a background in sales and marketing. She is actively involved with animal rescues and currently volunteers each week at the Greenville Humane Society. Bree and Simon have been married for 13 years and they have three children, three rescue dogs (Piper, Penny and Dixie) and a 19-year-old cat named Zoe. The family lives in Greer.
"We try to feed our family the best food we can, so when we learned about Pet Wants, the entire concept made complete sense to us. Pet Wants gives people an opportunity to feed their pets the best, freshest kibble available and that's something we knew we wanted to be a part of, especially after we started feeding the food to our own dogs," Bree said.
Pet Wants has a 100-percent, money-back guarantee on the freshness and quality of the food and the company only sources the best salmon, chicken, lamb, brown rice and other ingredients available. There's no sugar added, no fillers and no animal by-products and Pet Wants never uses corn, wheat, soy or dyes, which makes the food great for animals with allergies.
Pet Wants was originally founded in Cincinnati by pet parent Michele Hobbs, who was struggling to find a pet food for her dog, who was suffering from major health issues. When Simon heard her story, he was inspired to bring Pet Wants to more people.
"Pet Wants is exciting because the company is really built out one person's search for a better pet food – it wasn't created by a major pet food company just to make money. Every product we sell is focused on the health and wellbeing of the animals," Simon said.
Pet Wants GVL's retail store is open Monday – Saturday 9am-6pm. To learn more or to place a delivery order, call (864) 630-4110, email BCox(at)PetWants(dot)com or visit http://www.PetWantsGVL.com.
About Pet Wants: Pet Wants was started by Michele Hobbs out of love for her pets and frustration. Veterinarians were unable to help relieve her dog's painful skin allergies. After doing much research, Michele discovered the national dog food brand she trusted was not fresh, not all natural, and lacked sufficient nutrition and – when pet food sits in warehouses and store shelves for months and months – it loses even more nutritional value. She was committed to developing a better solution for all dogs and cats. Their food is exclusively crafted. It's fresh, healthy and slow-cooked with no sugar added, no fillers and no animal by-products. They source only the best salmon, chicken, lamb, brown rice, and other ingredients. Fresh ingredients make for better food… and better health for pets. And since they never use corn, wheat, soy or dyes, the common pet health problems associated with these ingredients are no longer worries. Their fresh food is conveniently delivered to the customer within weeks of production, not months. Roughly half of Pet Wants products are sold through their store and half through their convenient, home-delivery program. You can learn more at http://www.PetWants.com.