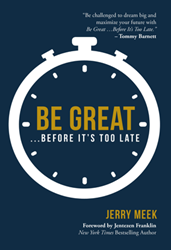 "JERRY MEEK gives us a 'never give up' inspirational message. I've always believed in such tenacity, but Jerry links such tenacity with a strong faith in God. I am inspired and you will be too!" - Marshall Larsen, Former CEO of Goodrich Corporation
SCOTTSDALE, Ariz. (PRWEB) January 30, 2018
Jerry Meek, author and president of award-winning custom luxury home builder Desert Star Construction, Inc. (DSC), is sending a wake-up call to readers, challenging them to consider whether they are living a life of greatness or a life that falls short of their destiny and ultimate fulfillment.
"BE GREAT…Before It's Too Late" is Meek's second book and his first publication with the support of The Fedd Agency. Readers will discover complete stories detailing not only his personal struggles and triumphs, but the lives of people, both well-known and some not, who persisted in the pursuit of their life purpose at all cost and now serve as an example that greatness is available to all.
"My desire in writing this book was to inspire and challenge my readers, especially the next generation graduating from college," stated Meek. "I agree with Jentezen Franklin when he wrote in the book's foreword that we don't challenge our young people to greatness as much as we should. In talking with young adults across the nation, I've come to see that these incredible young minds are hungry for living proof of how they can cultivate greatness in their own lives. My hope is that this book gives it to them through the real life stories of people they know and respect."
Several stories of greatness from the book include:

Faith Hill and her adoptive father
Simone Biles and her grandparents
Deshaun Watson and his mother, Deann
Ronnie Lott, his wife, Karen, and his father who was a Master Sergeant in the USAF
Divided into three sections, the book examines What Greatness Is Not, Tools For Greatness and What Greatness Is. Each section presents personal stories that are interwoven with inspiration and practical teachings from John Maxwell, Darren Hardy, 9/11 first responders and ends with questions for further personal reflection and a pathway to discover one's own individual greatness.
BE GREAT…Before It's Too Late puts into perspective that opportunities for greatness reveal themselves in the decisions people make every day. Readers will see that in order to be great, it "doesn't matter what your past or your current life circumstances are. It doesn't matter whether you currently have faith or not. In life we have many opportunities to win or to lose. We are faced with a constant choice: We can become more or we can remain the same." (pg. 21)
ENDORSEMENTS:

"Jerry Meek gives us a 'never give up' inspirational message. I've always believed in such tenacity, but Jerry links such tenacity with a strong faith in God. I am inspired and you will be too!" - MARSHALL LARSEN, Former CEO of Goodrich Corporation
"A come-from-behind win that will inspire you to reach for the stars." - ALAN L. NERO, Managing Director of Octagon Baseball
"You can learn a lot from this extraordinary builder of homes and teams of people." - DARREN HARDY, CEO Mentor, Publisher/Editor of Success Magazine
ABOUT THE AUTHOR:
JERRY MEEK is a man on a mission who loves people. He has a gift for integrating what he learns into his life and business. Jerry Meek is president of Desert Star Construction, Inc. (DSC), which is currently celebrating its 40th year in business. Jerry may have something in common with you. He has overcome poor health and the death of a child, and he started his career with a high school education and no money at eighteen years old. Today, DSC builds Personal Resorts® for the most financially successful people in the world. Jerry is the author of BE GREAT …Before It's Too Late and TEAM BUILDER TOOLBOX®: 13 Tools To Build The Power Of Your Team. Jerry and his wife of thirty-seven years, Carol, reside in Cave Creek, Arizona, and their two grown sons live nearby in the greater Phoenix area.
Visit Jerry on the web at BEGREATBEFOREITSTOOLATE.com. You can also follow Jerry on Facebook and Instagram.
ABOUT THE BOOK:
BE GREAT…Before It's Too Late
By Jerry Meek
Foreword by Jentezen Franklin
On Sale on Amazon: February 1, 2018
ISBN 978-1-943742-06-6 (Hardcover) • Price: $23.99
ISBN 978-1-943742-04-2 (eBook) • Price: $9.99
ISBN 978-1-943742-07-3 (Audio) • Price: $15.99