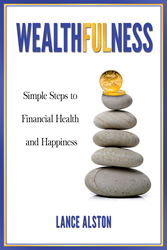 I like to think of my chapters as timeless family recipes, not some new shiny inventions. The ideas I present in the book will resonate with readers because they're really just common sense. -- Lance Alston
DALLAS (PRWEB) January 30, 2018
With constant internal and external voices vying for our attention, how do we cut through the noise and live a life of purpose with financial peace of mind? Author and financial planner Lance Alston's newest release, Wealthfulness: Simple Steps to Financial Health and Happiness (Brown Books Publishing Group), is full of simple insights to help consumers manage their financial affairs.
Wealthfulness is a term that combines the concepts of Wealth and Happiness. This thought-provoking book touches on the interplay between financial planning, behavioral finance, and new research into what truly gives us happiness. How can we improve our decision making process, integrate happiness into our lives, and find purpose in a modern, fast paced world? Wealthfulness is the recipe.
"Wealthfulness—wealth and happiness—is possible and it's within your control," says Alston. "I'm not talking about material wealth and superficial happiness. There are already plenty of books on how to become a millionaire, if that's your goal. I'm talking about a full, well-lived life that has meaning and purpose."
By asking simple questions, Alston encourages readers to take a deeper look and gain greater understanding of why they make the decisions that they do. Wealthfulness presents a holistic approach to financial health based on the author's experience helping families plan for their future.
"I like to think of my chapters as timeless family recipes, not some new shiny inventions. The ideas I present in the book will resonate with readers because they're really just common sense."
At whatever point of your financial journey you find yourself, Alston's book provides easily digestible advice. Wealthfulness will be an effective tool for readers who want to begin a mindful-approach to their finances.
Wealthfulness: Simple Steps to Financial Health and Happiness can be found in bookstores nationwide and online. For more information visit http://www.Wealthfulness.com.