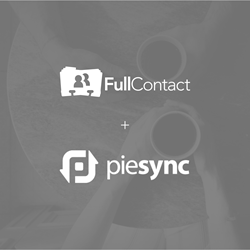 DENVER (PRWEB) February 01, 2018
FullContact, the leader in customer intelligence, today announced its seamless integration with PieSync, which provides two-way cloud app intelligent synchronization. FullContact's leading contact management application gives professionals and teams the ability to access contact data from Google, iCloud, and Exchange/ Office 365 accounts. With the integration to PieSync, customers can now quickly and easily connect their contacts to their CRM and other enterprise applications simultaneously, supplying even faster, more efficient contact address book updates.
"PieSync does an amazing job of allowing companies to connect their cloud apps to share customer contacts between marketing automation, CRM, email, invoicing, and e-commerce apps," says Travis Todd, Co-Founder and General Manager of Applications, FullContact. "Users no longer have to perform import or export operations because everything is handled instantly and on-the-go."
"Our collaboration with FullContact brings us one giant leap closer to our goal of syncing all cloud business apps," said Ewout Meyns, Founder and CEO of PieSync. "With FullContact, we are able to deeply enrich our user's customer data, helping them gain a 360° view of their contacts. This increases the ROI of their cloud apps and helps sales, marketing, and customer care teams be more productive."
PieSync connectivity takes advantage of direct two-way synchronization with other apps for automatic data transfer. The two-way contact integration decreases data errors and ensures that individual and team users will have access to the most up-to-date customer information. Whether it's Hubspot, Salesforce, or any other platform, the integration between FullContact and PieSync gives users a seamless solution to update and enrich contacts as they go from marketing lead to CRM record.
The integration has been successfully deployed by a select number of customers. Big Red's Equipment, a Texas-based farm equipment dealer, was an early adopter and instantly achieved results.
"I discovered that it's almost impossible to keep track of every update of every contact," said Tim Berman, Owner & Growth Evangelist, Big Red's Equipment. "FullContact enriches my customer database so my sales, marketing and customer service teams can get a full view of our customers. PieSync makes sure that this data gets into all our apps. Together, they are a powerful data enrichment and synchronization toolset."
To learn more about the integration and get started today, go to https://www.fullcontact.com/integrations/piesync.
About FullContact
Founded in 2010, Denver-based FullContact, Inc. offers industry-leading Customer Intelligence APIs that enable companies to unlock the benefits of understanding their customers and prospects holistically. For more information about achieving enrichment with the highest levels of data quality and security, please visit http://www.fullcontact.com
About PieSync
PieSync is the fastest growing two-way intelligent data synchronization platform for organizations that want to power their business by integrating their cloud apps. PieSync improves sales, marketing and service performance by easily and affordably connecting contact data without complexity across SaaS-based ecosystems and applications to guarantee relevance and reliability, every time. PieSync connects over 100 applications with new ones added every week and supports customers with greater than 20 employees across many industries. PieSync is headquartered in Ghent, Belgium. For more information please visit http://www.piesync.com.