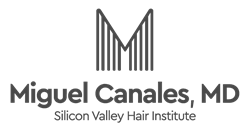 If someone is searching for a solution to hair loss, answers can be tough to find depending on what phrases they are using.
SAN FRANCISCO (PRWEB) January 30, 2018
Silicon Valley Hair Institute, one of the top-rated hair transplantation centers in California as a whole and the San Francisco Bay Area in particular, is proud to announce a new advertising campaign focusing on solutions to "hair loss" such as hair transplantation, PRP (Platelet Rich Plasma) and micropigmentation. The company is reaching out through Bing and Google advertising to connect phrases that support hair loss and hair restoration options.
"If someone is searching for a solution to hair loss, answers can be tough to find depending on what phrases they are using," explained Miguel Canales, MD, surgeon and founder of Silicon Valley Hair Institute. "We understand the phrase 'hair transplant' may not be their first choice. Our clinic's new campaign is to get the word out that we are working to help the community get the information they need no matter what phrase they enter in a search."
Bay Area residents searching for information regarding hair loss may find better results focused on the solutions or treatments for hair transplants, instead of focusing on the problem of hair loss. Unsuccessful searches can happen due to simple differences in search terms. To view the new ads, one should go to Google or Bing and due relevant searches. To learn more about San Francisco hair loss options, including hair transplantation, visit the Silicon Valley Hair Institute website at
http://siliconvalleyhairinstitute.com/
SAN FRANCISCO HAIR LOSS SPECIALISTS HELP CREATE SOLUTIONS FOR BEST HAIR TRANSPLANT DETAILS ON THE INFORMATION SUPERHIGHWAY
Here is background on this release. It's useful to compare the use of Internet search engines to directions on the physical freeways throughout the Bay Area. That said, wrong turns can happen frequently in the Bay Area. The development of the Santa Clara Valley landscape can appear to be a constant project. Newly built roads and expressways can confuse GPS systems as well as users. It may be difficult for a Bay Area resident to stay aware of the names and phrases for new streets and freeway off ramps. Getting to a specific destination can require learning new directions. If a local is searching online for San Francisco hair specialists, typing in the term "hair loss" may be the problem, but not the solution a user is seeking. Finding the best San Francisco hair loss specialists may require better directions.
In a similar way, and for this reason, Silicon Valley Hair Institute has announced a new advertising campaign to help the Bay Area community find information to hair transplant support regardless of the phrase entered in a search engine. Phrases such as 'hair loss' entered in Bing or Google can bring up images of balding scalps. If a local is searching for San Francisco hair loss specialists, a phrase such as 'hair transplant' may offer better results. Silicon Valley locals unfamiliar with the phrase may struggle to find the right answer to a problem. Whatever the semantic issues, it is hoped that any person suffering from hair loss reaches out for a confidential consultation with Dr. Miguel Canales at his Foster City, California, location.
ABOUT SILICON VALLEY HAIR INSTITUTE
The Silicon Valley Hair Institute (http://siliconvalleyhairinstitute.com/), under the leadership of top-rated California hair transplant surgeon Miguel Canales MD, is one of the best facilities offering San Francisco Bay Area hair restoration. It is a professional team of San Francisco hair specialists lead by Dr. Canales. Dr. Canales provides the full range of advanced hair transplant and hair restoration procedures for Bay Area residents, from San Francisco to Palo Alto to San Jose. Treatments include; robotic hair transplants, FUE/FUT surgery, PRP and micropigmentation. If one needs a hair transplant specialist, look no further than this Bay Area hair transplant center. The clinic provides both San Jose FUE transplant and San Francisco FUE transplant services. Dr.Canales also performs female hair transplants for women and eyebrow restoration, thus offering the best hair transplant and robotic hair replacement options. Call today to 650-551-1100 for a no-cost consultation.