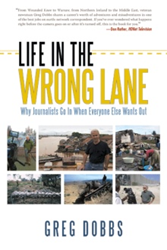 If you've ever wondered what happens right before the camera goes on or after it's turned off, this is the book for you." ~ Dan Rather, Legendary TV Newsman
EVERGREEN, Colo. (PRWEB) January 31, 2018
For news junkies, "Life in the Wrong Lane" will show you what it takes for correspondents to get to the news and to get the story once they're there. The title gives you the first glimpse. "Life In the Wrong Lane" is where journalists live—in the one lane heading toward a catastrophe while everyone else is in the other lanes—getting out.
The audiobook is available now at a pre-release sale price from the BFV Audiobook Store. It will be available April 30th, 2018 at your favorite retailer or library.
Written by Greg Dobbs, a three-time Emmy Award-winning correspondent for ABC News, "Life In the Wrong Lane" is his firsthand account of the funny, scary, stupid, dangerous, distasteful, unwise, and unbelievable things journalists experience just getting to the point of reporting a story...adventures that possibly are even more interesting than the stories being covered, but which never become a part of the reported stories themselves.
Greg Dobbs has covered news in more than 80 countries and in 49 states. He tells tales from the Soviet Union and Saudi Arabia, Beirut and Budapest, Egypt and Afghanistan, Uganda and Iran, Sudan and Salt Lake City (the execution of Gary Gilmore). He also relates adventures from Poland and Northern Ireland, Yemen and Libya, and the native American occupation of Wounded Knee. The events are a part of history. Today, correspondents at home and abroad are doing the very same things he has done for decades: living life in the wrong lane.
About Brook Forest Voices: a complete audio production studio located just west of Denver in Evergreen, CO, specializing in audiobook narration, production, publishing and distribution. Authors and publishing companies wanting to learn more about BFV services can visit http://www.brookforestvoices.com or contact Jaime Andrade, BFV Business Manager at 303-670-4145.