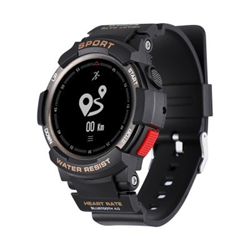 Florida (PRWEB) January 31, 2018
Something completely new in the market. Costing just over $ 30, NO. 1 F6, from the Chinese manufacturer of smartwatches and cellphones NO.1, really impressed by the range of features offered. Among them, it stands out:

Stopwatch
Sleep monitor
Connection reminder
Remote Camera
Reminder of water intake
Alarm
Reminder to move
Find my cell phone
NO. 1 F6 SmartWatch even comes equipped with GPS. This feature helps those who wish to maintain good control over their physical activities. All work perfectly with an application available for Android and iOS.
From the outside, the smartwatch also catches the eye. With a look that looks like the more robust watches, NO. 1 F6 SmartWatch has the following features:
dust proof
Waterproof
Shockproof
Risk-proof
Corrosion-proof
Pressure-proof (up to 50 meters deep)
Extreme temperature proof (-40 ° C to 70 ° C)
Finally, the watch comes equipped with a 350 mAh battery, which is enough to make the smartwatch withstand 50 days of use (or 120 days in standby mode). That is an impressive performance since today's smartwatches can hardly last a week.