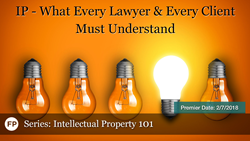 It is important to understand how changes in U.S. Intellectual property laws may potentially impact US businesses.
CHICAGO (PRWEB) January 31, 2018
Intellectual property (IP) laws in the US have undergone fundamental changes over the past several years. For example, in 2011, the Leahy-Smith America Invents Act (AIA) overhauled the American patent system in a way that had not been accomplished since 1952. Moreover, the Supreme Court decided several cases that, among other things, created a tougher environment for inventors/patent applicants and expanded the scope of trademark protection to marks that were likely to be previously rejected. In 2016, The Defend Trade Secrets Act created new federal laws that allow an owner of a trade secret to sue in federal court when its trade secrets have been misappropriated. And new technologies, such as artificial intelligence, have scholars and legislators rethinking the scope of copyright protection and debating additional reforms that have the potential for even more change.
In an increasingly competitive commercial environment, entrepreneurs and managers must understand how these changes to our patent, trademark, trade secret, and copyright laws may potentially impact US businesses. This series of webinars seeks to both educate you on current laws and prepare you to take full advantage of the changes that lie ahead. Please join some of the leading attorneys in the World, as they discuss—in plain English for the non-expert—the basics of U.S. IP laws and the changing landscape as it affects US businesses.
The first episode of the series, IP- What Every Lawyer & Every Client Must Understand, airs on February 7th at 2:00 PM CST (Register Here) and features Moderator Cory Spence of Spence P.C. He is joined by Kristin Garris of Tannenbaum Helpern Syracuse & Hirschtritt LLP, Richard Claywell of the Offices of J. Richard Claywell CPA, and Brian R. Landry of Saul Ewing Arnstein & Lehr LLP.
Intellectual property or "IP" is a term used to describe certain types of intangible property. Like other forms of property, such as real estate and personal property, IP can be owned, purchased or transferred. How ownership is determined differs according to the type of IP. This webinar discusses the importance of certainty in ownership of IP and how ownership of IP is entangled with areas of corporate law and employment law.
The INTELLECTUAL PROPERTY-101 Series is produced by Financial Poise.™ Future episodes in the series include "Nuts & Bolts of Patents," airing on March 14th, "Nuts & Bolts of Copyrights" airing on April 11th, "Nuts & Bolts of Trademarks," airing on May 16th, and "Leveraging & Protecting Trade Secrets in the 21st Century," airing on June 13th. Each episode airs at 2:00 PM CST. All episodes will be available live through West LegalEdCenter and then on-demand following the live premiere.
As with every Financial Poise Webinar, each episode is delivered in Plain English understandable to investors, business owners, and executives without much background in these areas, yet is also valuable to attorneys, accountants, and other seasoned professionals. And, as with every Financial Poise Webinar, each episode brings you into engaging, sometimes humorous, conversations designed to entertain as it teaches. Each episode in the series is designed to be viewed independently of the other episodes, so that participants will enhance their knowledge of this area whether they attend one, some, or all episodes.
About Financial Poise™
Financial Poise™ has one mission: to provide reliable plain English business, financial and legal education to investors, private business owners and executives, and their respective trusted advisors. Financial Poise™ content is created by seasoned, respected experts who are invited to join our Faculty only after being recommended by current Faculty Members. Our editorial staff then works to make sure that all content is easily digestible. Financial Poise™ is a meritocracy; nobody can "buy" her way onto the Financial Poise Faculty.™ Start learning today at https://www.financialpoise.com/