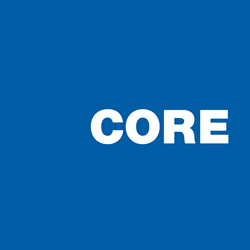 It wasn't easy to start with a century-old National Historic Landmark, preserve its beautiful historic integrity, carefully expand it, and outfit it with cutting-edge furnishings and other resources. - David Gerson, Executive Vice President, American Enterprise Institute
WASHINGTON (PRWEB) February 07, 2018
CORE architecture + design (CORE) and Hartman-Cox Architects (Hartman-Cox) recently collaborated to transform a historic apartment building on Massachusetts Avenue into the new headquarters of the American Enterprise Institute (AEI). Together, CORE and Hartman-Cox modified the 85,000 SF historic building within the constraints of both an exterior and an interior historic easement to provide AEI with state-of-the-art facilities and office space that support its public policy leadership and scholarly work.
"Creative, collaborative thinking was paramount to developing a cohesive design solution that would meet the needs of this unique organization and its unique historic building," said CORE principal I. Guy Martin, AIA. "AEI wanted modern office solutions that would fit into the turn-of-the-century, French-style building, so our challenge was to create elegant work environments with modern function, which remained sympathetic to and respectful of the building's original character."
1789 Massachusetts Avenue, NW — now named the Daniel A. D'Aniello Building — is a National Historic Landmark with interior distinction that required both exterior and interior preservation. The biggest challenge was the historic interior along Massachusetts Avenue and 18th Street that needed a new office design that would not impact the original ceilings, walls, or floors. The rest of the building was reconfigured with contiguous floors to match the 10-foot ceilings; the previous structure had been servants' quarters with lower 7-foot ceilings. Collaborating with base building architect Hartman-Cox in charge of the exterior work of the building, CORE focused on the workspaces, servery, and broadcast facilities.
"We spent a great deal of time considering how best to create a state-of-the-art workspace for both scholars and staff, and designed every detail to ensure longevity and a classic timelessness," said CORE lead designer Ron Ngiam.
CORE created modern, tailored workspace "islands" that seem to float within the grand Beaux-Arts style rooms, which were originally designed in 1915 as luxury apartments. CORE placed multiple freestanding millwork work areas in each room but with their height (7 foot 6 inches) and sliding-glass doors, they became private rooms within a room — while maintaining an overall openness and transparency. Each employee/scholar workspace has some or complete physical privacy and carefully concealed functional storage (for paperwork, binders, printers, coats, etc.) as well as specifically placed open storage for books — and even plants. Since CORE could not touch the ceilings or walls, they built task and ambient lighting into each office solution to illuminate the work area and room overall.
"The lighting was a significant challenge with its historic preservation limitations but now, it looks like a beautifully illuminated library or academic building," continued Ngiam.
CORE also designed the servery, which adjoins the main dining room on the ground floor, and the pantries on every office floor, and CORE worked with Hartman-Cox to create the broadcast studio in one of the two below-grade floors added during the renovation. The 500 SF servery includes warm, glowing millwork and meticulously concealed food service equipment and illuminated marble countertops and backsplashes highlighting the cuisine of the day. CORE selected Anigre-wood millwork, Cervaiole marble countertops, and Basaltina stone flooring to complete the elegant design. Each pantry incorporates the same wood cabinetry, granite countertops, and neatly built-in equipment.
The broadcast studio facility, located on the G1 level, is designed for both video and audio production and broadcast. The facility includes a full-size production studio, TV studio, audio studio for radio broadcast, and a video-editing studio for in-house video editing and processing. Built for maximum space utilization on an isolating concrete slab, the broadcast facility is an acoustic-isolating environment.
"AEI was very fortunate in its selection of architects. It wasn't easy to start with a century-old National Historic Landmark, preserve its beautiful historic integrity, carefully expand it, and outfit it with cutting-edge furnishings and other resources to support our mission," said AEI Executive Vice President David Gerson. "Hartman-Cox and CORE listened carefully to our needs, coached us to make good choices, and created a functional, collaborative, innovative, and beautiful space to support our work."
AEI staff moved into their new office spaces in late summer 2016.
Hartman-Cox Architects led the American Enterprise Institute project. In addition to CORE, other project team members included: Stephen Perkins (Project Advisor), Grunley Construction Company Inc. (General Contractor), Brayton Hughes Design Studio (Public Space), Robert Silman Associates (Structure), AEI Affiliated Engineers (MEP), White Oak Properties (PM), Next Step Design (Kitchen), Houghton Associates (Acoustic), George Sexton Associates (Lighting), and Bowman Consulting (Civil).
About CORE architecture + design
Under the leadership of Principals Dale Stewart, Guy Martin, Allison Cooke, and David Cheney, CORE thrives on complex projects and leads with experience, understanding that their best work comes from designing hand in hand with their clients. Bringing a spirit of exploration to each project, CORE believes that design has the power to shape experiences. Visit coredc.com and follow COREdc on Twitter, Instagram, Facebook, and LinkedIn.