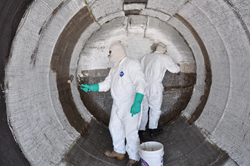 The Genesis double wall retrofit system makes use of our PLS 1776 series resins, which are designed for application with steel USTs, fiberglass reinforced plastic USTs, and aboveground storage tanks.
PLYMOUTH, N.H. (PRWEB) February 21, 2018
Poly Lining Systems (PLS) announces the appointment of WCC Tank Technology of Newburgh, NY as a licensee for the application of its proprietary Genesis Double Wall Retrofit System. "We have been working with WCC Tank Technology for years," said Jeff Colner, Vice-President of Operations for PLS. "They are currently licensed to apply our lining products and systems to both steel wall and fiberglass underground storage tanks, as well as our above ground storage tank floor rebuilding systems. We are pleased to announce WCC is now part of the nationwide rollout of our next generation Genesis system for retrofitting double wall underground storage tanks."
More and more states are in a sunset period for single wall underground storage tanks. Completely replacing a well-maintained single wall tank is not necessarily the optimal solution in many cases. The PLS Genesis System provides a cost-effective retrofit that turns a single wall tank into a fully-functioning and compliant double wall tank with third-party tested interstitial monitoring.
Colner continued: "The Genesis double wall retrofit system makes use of our PLS 1776 series resins, which are designed for application with steel USTs, fiberglass reinforced plastic USTs, and aboveground storage tanks. Regulatory compliance is achieved by creating a monitorable interstitial space between two structural layers of fiber reinforced resin laminates. This system is compatible with petroleum fuels, alcohol-blended petroleum fuels, alcohols and biodiesel, as well as a multitude of petrochemical products. More information can be found on our website." http://www.polyliningsystems.com/
About Poly Lining Systems
For 35 years the people at Poly Lining Systems (PLS) have been formulating, manufacturing and installing cutting-edge tank linings in both above and below-ground storage tanks to help protect the earth's fragile subsurface environment. With changes in gasoline and fuels, petrochemicals and chemical products over those 35 years, have come new and reformulated lining products, spray equipment and application methodologies. Poly Lining Systems makes the benefit of these state-of-the-art tank lining systems and technologies available to industry across the world through a network of applicator licensees who are trained and supported by the PLS team of tank-lining specialists, chemists and engineers. PLS has specialized products for underground fuel tank lining, above ground fuel storage tank lining, and water and potable water storage vessel lining. The PLS team and its affiliate applicators offer a range of solutions to optimize tank storage systems and protect the environment.
To learn more about Poly Lining Systems visit http://www.polyliningsystems.com/
Call Toll-Free: 877-427-0090 and outside USA call: +1-626-628-0139
Fax: 603-947-9500 or info(at)polyliningsystems.com