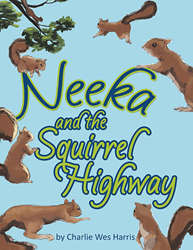 "An enjoyable and inventive story, offering an amusing reaction to a startling event, that will certainly appeal to young audiences."
WASHINGTON (PRWEB) February 19, 2018
Educator and author Charlie Wes Harris has recently released "Neeka and the Squirrel Highway," a children's story based on a real-life event his daughter experienced.
The book describes what happens when Neeka comes home from school and finds a furry surprise onnither parents' bed. What she thinks is a pair of brown socks turns out to be a sleeping squirrel.
When the squirrel sees Neeka, he is terribly frightened and tries to find a way to escape. Neeka is also afraid, but with her family's help, she faces her fears and sets the squirrel free—after he's had a good time exploring their house.
"The book is designed as an easy reader for elementary school kids but may also be used for the preliterate," Harris said. "I knew this would make a fascinating story for children, as it actually happened to my daughters Neeka and Angela during their childhood."
The book has received critical acclaim, with Foreword and Clarion Reviews describing the book as "an enjoyable and inventive story, offering an amusing reaction to a startling event, that will certainly appeal to young audiences."
"Neeka and the Squirrel Highway" will not only entertain children, but also teach them how to face their fears and overcome them.
"Neeka and the Squirrel Highway"
By Charlie Wes Harris
ISBN: 978-1480845619 (hardcover); 978-1480845596 (electronic)
Available at the Archway Publishing Online Bookstore, Amazon and Barnes & Noble
About the author
Charlie Wes Harris was born and grew up in Auburn, Alabama. His career has been divided between academic and US Government service in Washington, DC. He was Senior Specialist (GS-18, prior SES) and Division Chief at the Congressional Research Service. He is former professor and associate dean at Howard University along with part-time professor at Georgetown University. Harris has authored five scholarly books and monographs and a lead article in the Catholic University Law Review. This is his first book of fiction and his first book for children. He is the father of two adult daughters and has five grandchildren.
Review Copies & Interview Requests:
LAVIDGE – Phoenix Kiersten Woglom
480 998 2600 ext. 586
kwoglom(at)lavidge(dot)com