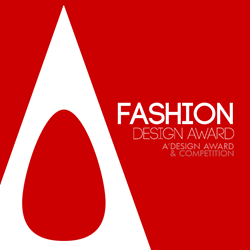 COMO, Italy (PRWEB) January 30, 2018
The A' Fashion, Apparel and Garment Design Awards is organised yearly by A' Design Award and Competition in pursuit of recognising excellent fashion designs for products that were proposed and completed within the last 10 years. Every year, A' Fashion Design Competition features a reputable jury panel of specialist in fashion design, branding, and consumer products to evaluate projects submitted to A' Design Award.
The first phase of A' International Fashion, Apparel and Garment Design Awards is the preliminary round where designers submit their design works for preliminary evaluation. Fashion design projects that have received a high preliminary score in the preliminaries can proceed with nomination. Although the registration and submission a design for the preliminaries is free of charge, there is a fee for nominating entries for the finals.
Today, submissions to the A' Fashion, Apparel and Garment Design Awards could be made in several sub-categories such as: apparel categories, men's and boy's clothing, girls' and women's clothing, wedding apparel, ethnic clothing, uniforms and costumes, footwear design award and more. The following are some example projects that could be submitted to the A' Fashion Design Awards- runway collections, suits, skirts, trousers, jackets and more, for a detailed descriptions, please visit https://competition.adesignaward.com/competitions/fashiondesign.html.
Deadline for late submissions is on February 28, 2018. All fashion design projects should be submitted by this date, however further modifications could be made within seven days of entry. Results will be announced on April 15, 2018 through a wide network of design oriented publications and media partners.
About A' Fashion, Apparel and Garment Design Awards
The A' Fashion, Apparel and Garment Design Awards was established to create awareness for good design principles and practices. In this matter, A' International Fashion, Apparel and Garment Design Awards aims to build strong incentives for fashion designers, companies and brands from all around the World to come up with better fashion design products and services. The A' Fashion, Apparel and Garment Design Awards pushes forward worldwide designers and brands to create fashion products and projects that offer additional value, sustainability and innovations. To learn more about the A' Fashion Design Awards please visit http://www.designaward.com