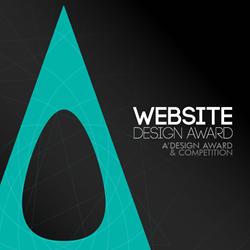 COMO, Italy (PRWEB) January 30, 2018
The A' Website and Web Design Awards is an annual event that admits submission from all over the World. Website and web design works that were proposed and/or completed within the last 10 years are eligible to be nominated. The A' International Website and Web Design Competition accepts entries in several different sub-categories such as thematic based, devices and screens, best of web design, scope and aims, tipologies, web based software, misc web design, social web and marketing at web.
The A' Website and Web Design Competition is a recognized international accolade created to highlight the most innovative design works in web design industry. Once a year, a highly reputable jury panel is selected in order to choose and honour the greatest professionals within the web design industry.
Winners of the A' Website and Web Design Awards competition will be awarded during Winners' Gala Night Award Ceremony in Italy. All laureates will receive a prestigious A' Design Prize that includes a professional certificate, lifetime license to use the award winner logo, yearbook of best designs, exhibition of awarded works in Italy, A' Design Award trophy, inclusion in World Design Rankings and invitation to Prime Clubs. Moreover, the A' Web Design Award winners will also be entitled to have a comprehensive press kit that is prepared and distributed to huge number of press members and media partners.
Submissions to the International A' Website and Web Design Awards are accepted until February 28, 2018 with results announcement on April 15, 2018 through a vast network of media partners.
About A' Design Awards
The A' Design Award and Competition has been established to praise innovative and unique design projects from around the World. The primary goal of the A' Design Award is to create a global awareness and understanding for great design practices and principles. The ultimate goal of the A' Design Awards is to encourage designers, companies and brands worldwide to design excellent projects which benefit society. To learn more about the A' Design Awards and the A' Website and Web Design Award, please visit http://www.designaward.com