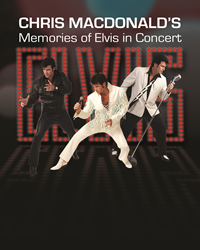 Only tribute artist hired by Elvis Presley Enterprises to perform at Graceland's Heartbreak Hotel
ORLANDO, Fla. (PRWEB) February 01, 2018
Chris MacDonald's Memories of Elvis in Concert tour is rockin across Florida's I-4 corridor in February with stops at the Palladium in St. Pete and the Plaza Live in Orlando.
Over 40 years ago on August 16, 1977 we lost one of the greatest entertainers and pop culture icons of all time. Elvis Presley. Gone but never forgotten, his image, music, films and memory live on as a testament to his true effect and influence on his generation and future generations to come. The original "American Idol" who influenced the Beatles, The Rolling Stones and anyone that has ever picked up a guitar or a microphone since, continues to engage our love affair with his All American story of a shy poor and humble country boy that became the King of Rock-n-Roll.
Keeping the memory alive with this special tribute that highlights the King's Early Years, Movies and the Vegas Concerts, MacDonald states with a nod to Daytona 500,"I used to watch Elvis play a race car driver in movies on tv as a little kid. Elvis was cool. He'd win the race, beat up the bad guy, sing some songs and have beautiful women in bikinis chasing him. Man what a gig. Rough job but somebody's got to do it" With songs like Return to Sender, Can't Help Falling In Love, Viva Las Vegas, Suspicious Minds and may more in the set list Chris MacDonald will bring back the memories of an American icon and his music.
With this national touring production backed by a dynamic 8 pc band and dancers, you are in for a big Las Vegas-style show as Chris MacDonald's Memories of Elvis in Concert draws the audience in with the look, sounds, and nuances that made Elvis the King. An accomplished and experienced entertainer, Chris has performed in Las Vegas, Branson, Missouri and with the famous "Legends in Concert" stage productions.
Adding to the authenticity of his tribute, Chris has the ultimate honor of being the "Only Tribute Artist hired by Elvis Presley Enterprises to perform at Graceland's Heartbreak Hotel." The show is presented not as a parody or an overdone impersonation but as a natural, heartfelt tribute to a Legendary entertainer and his music.
With live performances of many of the King's hit songs and costume changes representing several stages of his iconic career including The Early Years, The Movies, The Black 1968 Comeback (Black Leather), '70 Vegas concerts (White Fringe),Chris MacDonald states , " It's going to be a fun night of great music and memories celebrating the life and music Elvis Presley"
"Oh yeah.and Thank you, Thank you very much" he says with an aw shucks smile. "You can bring your Valentine and get "All Shook up" at the Palladium in St. Pete on February 17th and The Plaza Live in Orlando on February 24th".
February 17h at the Palladium at St. Petersburg College
The Palladium
253 Fifth Ave. N
St. Petersburg FL 33701
727-822-3590
mypalladium.org
Ticket costs: $27-$37
February 24th at the Plaza Live in Orlando.
Plaza Live Orlando
425 Bumby Avenue
Orlando, Florida 32803
407-228-1220
Plazaliveorlando.org
Ticket costs: $28-$48