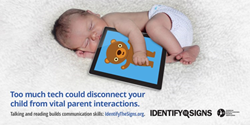 ROCKVILLE, Md. (PRWEB) January 30, 2018
As Apple shareholders, former Facebook executives, and other prominent voices in the technology industry sound alarms about overuse of popular technology, the American Speech-Language-Hearing Association (ASHA) today released the results of a survey it conducted of nearly 200 attendees at the 2018 International CES earlier this month. The ASHA survey results show 88% think it is important that more prominent industry figures speak out about tech overuse.
The survey respondents work in the tech industry and appear to be strict about their own and their children's tech use. Almost 67% said children should not be allowed to have their own personal tech devices until age 10 or older—this amid a societal environment where new tablets, smartwatches, and other devices are being heavily promoted for even the youngest children. Almost a third (30%) said children shouldn't even use devices until age 10 or older.
"One of the most fascinating aspects of these results is that the very people who work to design and market these products seem to be very concerned about the effects of this technology—and perhaps more dedicated to managing their own and their families' usage than the rest of us," said Elise Davis-McFarland, PhD, CCC-SLP, 2018 ASHA President.
"Among our concerns as communication experts is the potential impact on speech/language development in young children," Dr. Davis-McFarland continued. "It's not the technology itself, but how it is being used and what it is taking away from when it's being used. If used interactively with parents, and it is not detracting from time children spend talking, reading, and interacting with loved ones, it isn't necessarily problematic. But when it's supplanting these critical opportunities for verbal interaction, which is how young children learn to communicate, that is worrisome. We also need to be mindful of hearing loss in children who are listening to devices at too-loud volumes, particularly with earbuds or headphones."
Of those CES respondents who are parents themselves (roughly half), 72% said they have prohibited technology at the dinner table, social events, or similar gatherings, and 68% have set limits for how much time their children can use their devices. There's also strong interest in doing more, including employing apps or other tools to help manage their kids' tech use (70% said they are interested) and establishing tech-free areas of their house, such as the family room or bedroom (61% said they are interested).
When it comes to their own tech use, 86% of the CES attendees surveyed by ASHA said they would attend a venue, restaurant, or social gathering where personal device usage is prohibited. One quarter said they employ features, apps, or devices to help manage the time they spend on devices.
Among parents, 55% said the biggest barrier to managing their children's tech use is their own busy schedule, which makes it difficult to monitor usage and/or assist in keeping kids occupied. That may be why so few (8%) say they "always" use tech interactively with their kids. Nevertheless, a large majority of all respondents see that the most realistic solution to preventing kids' overuse is parental/household parameters (68%).
To view the full survey results, click here.
About the American Speech-Language-Hearing Association (ASHA)
ASHA is the national professional, scientific, and credentialing association for 191,500 members and affiliates who are audiologists; speech-language pathologists; speech, language, and hearing scientists; audiology and speech-language pathology support personnel; and students. Audiologists specialize in preventing and assessing hearing and balance disorders as well as providing audiologic treatment, including hearing aids. Speech-language pathologists identify, assess, and treat speech and language problems, including swallowing disorders. http://www.asha.org