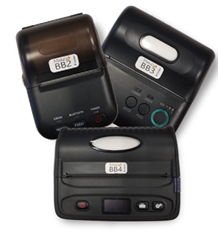 (PRWEB) February 02, 2018
Advantage Route Systems has just released a new line of portable printers called Mango BB printers. These portable printers are for use in route delivery applications; ticket printing, warehousing and other demanding environments. They come in three convenient sizes: a 2 inch (60mm), 3 inch (80mm) and a 4 inch (110mm) printer paper width.
Wireless printing is effortless with the Mango BB printers, which use the latest version of Bluetooth®--4.0 to transfer data at lightning speed. The devices are also backwards compatible with Bluetooth 2.0.
Generous battery sizes and quality engineering assure that these portable printers can operate a full day without charging. They feature a rechargeable Li-Ion battery ranging in size from 1500 mAh to 2400 mAh.
They are designed for tortuous outdoor conditions and can operate in a variety of temperatures from below freezing to near desert conditions. Drop test specifications are excellent and add to the incredible value and longevity of these printers.
Units are available for immediate shipment at the company web site: https://advantagers.com/bluetooth-printers/
For more information, contact Inside Sales toll free at 888.294.7688 ext. 247 (international 1.209.632.1122).
Company Background
Advantage Route Systems, of Turlock, California, is a global supplier of route accounting systems to customers in over 40 countries, serving over a dozen industries. Its variety of solutions feature a strong core of handheld and desktop technology. In business since 1994, ARS is a premier supplier of route accounting hardware and software.