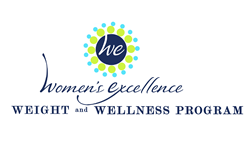 (PRWEB) January 31, 2018
Metabolism and hormone levels can affect weight loss results. The comprehensive weight management program at Women's Excellence will help patients lose weight and keep it off.
The program begins with an initial evaluation and physical exam. The specialists at Women's Excellence will measure BMI, body fat composition, and Calcium and Magnesium levels. Additionally, a comprehensive set of labs will be taken to measure hormone levels and metabolism.
Women's Excellence is committed to helping patients reach their goals. The initial evaluation also includes a one-on-one discussion with a wellness specialist to document goals, discuss expected results, and begin a diet regimen and exercise regimen, and choose supplements that are best for the patient.
If you are a woman who is looking for a customized weight management program, call Women's Excellence today for an appointment to begin your wellness journey.
Women's Excellence is the most comprehensive obstetric and gynecologic office in Michigan. Additionally, they specialize in menopause, weight control, bladder control, endometriosis, robotic surgery, oncology and midwifery services. Women's Excellence is committed to staying at the forefront of innovation with cutting edge technologies utilizing robotic surgery and minimally invasive surgical options when possible. The knowledgeable, compassionate physicians and healthcare providers of Women's Excellence focus on patient-centered processes to deliver the highest quality of care. They are affiliated with most insurances. They offer seamless medical record access via a state of the art patient portal and use the latest technology for record keeping and sharing, making the patient experience easier and more efficient. Women's Excellence is taking new patients and is conveniently located throughout southeastern Michigan in Birmingham, Lake Orion, Clarkston, Rochester, and West Bloomfield. For more information, visit http://www.WomensExcellence.com.