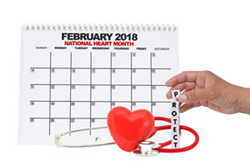 Manufacturers of heart-healthy products should use custom labels to increase the appeal of their items and help customers stick to a smart diet.
DENVER (PRWEB) January 31, 2018
February is American Heart Month, intended to make consumers and companies alike think about what they're doing for the sake of heart health. Food packaging could play a pivotal role in these efforts, as shoppers today are paying more attention to the ingredients in their meals than ever before.
Important Labeling Choices
Brands that offer heart-healthy foods can prioritize nutrition label changes during American Heart Month, either specifically mentioning the event or simply emphasizing the potential benefits for customers on healthy stickers and labels.
Actual changes to labels can take several forms. Updated nutritional labels or ingredients listings may help manufacturers' stay up to date with changes to regulations. Logos from heart-health organizations can make a direct appeal to consumers' interest in eating well, provided companies can meet the applicable regulations. Recipes can show practical ways to turn simple products into health-focused meals.
Time for Change
Food manufacturers with a keen understanding of the schedules in their industries can take several opportunities throughout the year to make special changes to their healthy labels. American Heart Month is one such time.
"Consumers today are watching what they eat more closely than ever," said Lightning Labels Director of Business Development AnneMarie Campbell. "Manufacturers of heart-healthy products should use custom labels to increase the appeal of their items and help customers stick to a smart diet."
American Heart Month begins soon, but manufacturers still have time to adjust their labeling.
About Lightning Labels:
Lightning Labels uses state-of-the-art printing technology to provide affordable, full-color custom labels and custom stickers of all shapes and sizes. From small orders for individuals to the bulk needs of big businesses, Lightning Labels is equipped to handle and fulfill custom label and sticker projects of all types. Best of all, like the name implies, Lightning Labels provides a quick turnaround for every customer's labeling needs. Uses for Lightning Labels' custom product labels and custom stickers include food packaging and organic food labels, wine and beverage labels, bath and body labels, and nutraceutical products, such as vitamins, essentials oils, and herbal remedies, as well as event stickers, adhesive window stickers and more. Lightning Labels strongly supports the development of environmentally friendly printing materials and carries EarthFirst PLA, a new kind of green label material made from corn instead of petroleum. While operating as a high-tech printer, Lightning Labels prides itself on its personalized customer service. Lightning Labels provides one stop shopping for all of your custom label needs. For more information and to place orders online, visit LightningLabels.com. For the latest in packaging news and labeling promotional offers, find Lightning Labels on Twitter (@LightningLabels), Facebook, Pinterest, Google+ and LinkedIn.