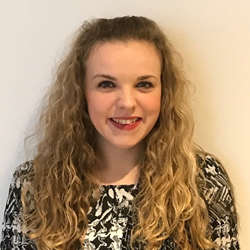 Cologne, Germany (PRWEB) January 31, 2018
cleverbridge, a provider of global ecommerce, billing and payment solutions, announces Senior Performance Marketing Manager Amy Carabini will present at Affiliate Summit Europe 2018 to be held February 6-7 at Intercontinental London – The O2. Carabini will present "5 Ways to Build Affiliate Relationships for Global Success" on February 7 at 12:15 pm.
During her presentation, Carabini will illustrate why it is essential to work with affiliates as partners, and how to create a communication strategy to build successful relationships. She'll also share first-hand case studies on partnerships which have resulted in global success.
As a senior performance marketing manager at cleverbridge, Carabini focuses on performance marketing management and business development, and leads growth strategies for the Performance Marketing Programs in the EMEA/APAC region, managing the relationships with key clients and affiliates. Her passion is working together with affiliates and advertisers to optimize their revenue streams.
After 11 years, Affiliate Summit Europe returns to London for unparalleled networking and inspiration while discovering what's next on the performance marketing horizon. The conference offers attendees an Affiliate Summit Meet Market packed with affiliates, merchants, vendors, networks, technology providers, digital agencies, traffic sources; multiple tracks of relevant educational sessions delivered by industry experts; and a variety of networking events.
For more information on Affiliate Summit Europe 2018, visit http://affiliatesummit.com/events/aseuro18-london. To learn more about cleverbridge, please visit http://www.cleverbridge.com/corporate/grow-recurring-revenue-video.
About cleverbridge
cleverbridge provides flexible ecommerce solutions for monetizing digital goods, online services and SaaS. Our cloud-based ecommerce platform simplifies recurring billing, optimizes the customer experience and offers comprehensive global payment capabilities. Leveraging cleverbridge expertise, technology and services, clients effectively increase customer acquisition and retention while rapidly expanding into international markets for revenue growth. cleverbridge is headquartered in Cologne, Germany with offices in Chicago, San Francisco and Tokyo. For more information, visit http://www.cleverbridge.com.