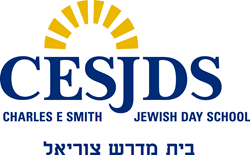 "As we seek to expand the offerings of the renamed Gudelsky Media Center and the School's leadership in STEM education, it is fitting for the Tinker Space to sit in this hub of literacy."
Rockville, MD (PRWEB) January 31, 2018
The Charles E. Smith Jewish Day School (CESJDS), a JK-12 independent day school built on a platform committed to academic excellence, Jewish values, and the practice of pluralism, has opened a Tinker Space, an area where students can build, code, and create in an open-ended way.
The Tinker Space houses robotics, building materials, and centers for exploration, such as gears, snap circuits, and hex bugs. Another aspect of the Tinker Space is a 'STEM Library.' Not only can students check out books pertaining to STEM, but they also have access to Lego and other playsets that they can take home and explore after school hours. In addition, the Instructional Technology department, along with a green screen, have been relocated to the Media Center. JDS Lions Live, the Lower School's student media group, utilizes this area to showcase school highlights.
The Tinker Space is open for student exploration before school and during recess. "The most interesting thing about the Tinker Space is that students can work and create on their own. There is no formal teaching and no instruction manuals," said Dr. Alexis Soffler, Lower School Science and STEM Coordinator. "Students are engaging in mathematical and engineering thinking that also masquerades as play."
"The Tinker Space is yet another wonderful enhancement of the CESJDS STEM program. The School has invested an abundance of hours and resources to engage students in top-notch learning in the areas of Science, Technology, Engineering, and Mathematics," said Rabbi Mitchel Malkus, Head of School. "As we seek to expand the offerings of the renamed Gudelsky Media Center and the School's leadership in STEM education, it is fitting for the Tinker Space to sit in this hub of literacy."
A formal ribbon cutting will take place on Wednesday, February 14, 2018, at 8:30 AM with the Gudelsky family. To RSVP, please contact Laurie Ehrlich, Director of Marketing & Communications, at lehrlich@cesjds.org.
About CESJDS
Founded in 1965, the Charles E. Smith Jewish Day School (CESJDS) is one of the largest and most prestigious JK-12 Jewish day schools in North America. Creativity and confidence are the cornerstones of our school community, cultivated by our warm family atmosphere and tradition of academic excellence. Our 950+ students flourish with the support of dedicated faculty and the opportunity to work with cutting-edge technologies. CESJDS is approved by the State of Maryland Department of Education and accredited by the Association of Independent Maryland & DC Schools. Visit http://www.cesjds.org for more information and/or for a tour of our campuses.
About Dr. Alexis Soffler
Dr. Alexis Soffler joined the CESJDS team as a STEM Education Specialist in 2013. She has spearheaded the expansion of the STEM program at CESJDS, including developing elementary school-wide programs, events such as the STEM Challenge, and the launch of the Ethel and Irving Schilit Innovation Lab. Dr. Soffler was recently selected by the U.S. Department of Education to sit on an expert review panel to evaluate the integrity of science learning in new multimedia technology and programming being created for early childhood learning environments. Prior to CESJDS, she held several other STEM-related teaching positions in Colorado where her passion for the subject grew. She is excited to work with students and teachers who are invested in the exciting educational space of STEM. Dr. Soffler may be contacted at asoffler(at)cesjds(dot)org.