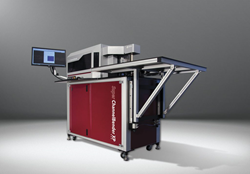 If you missed AdamsTech last year at ISA, you will certainly want to stop by the SDS/AdamsTech booth this year to see the cutting-edge Super ChannelBender XP.
BOULDER, Colo. (PRWEB) January 31, 2018
SDS/AdamsTech is excited to be participating in another fantastic ISA Sign Expo. This will be the newly formed company's first Sign Expo since the merging of the two formerly separate companies, SDS and Adams Tech. The new enterprise is under the leadership of Tony Lim from SDS. Visitors will also see many familiar faces including James Cross, who has been positioned as Vice President of Sales and Operations for the ChannelBender division. The highly experienced technical support team from Adams Tech remained with the new company as well. Sara Fox, Kyle Kermoade, Don Hill, Brad DeHaan and Andy Park, are all known and trusted by many of our customers and are ready and able to offer their industry leading support when the need arises.
If you missed AdamsTech last year at the ISA Sign Expo, you will certainly want to stop by the SDS/AdamsTech booth this year to see the cutting-edge Super ChannelBender XP. This innovative machine has rapidly become THE best-selling, industry benchmark. The Super ChannelBender XP is built on the Super ChannelBender platform but with the addition of a hydraulic punching unit among the long list of features that make the Super ChannelBender so groundbreaking. Adding an inline punching function eliminates the need to come back after the return has been bent, to manually add holes for weeping moisture, inserting rivets or affixing screws. This not only saves time, but significantly increases accuracy and efficiency to the process of channel letter fabrication.
SDS has a world-class team of engineers and staff who are continuously seeking the best industrial automation equipment to pair with the ChannelBender lineup. The ChannelStitcher was recently introduced to accompany all the ChannelBender Series' bending machines. This year at ISA Sign Expo, SDS/AdamsTech is eagerly anticipating the opportunity to debut one additional equipment which will be of great interest to the sign market. Backed by the solid reputation of SDS/AdamsTech, sign businesses are surely going to want to peek at this fresh, high-performance piece of equipment.
Be sure to look for SDS/AdamsTech (booth #5430) at ISA 2018 and see the one-of-a-kind surprise they have in store!