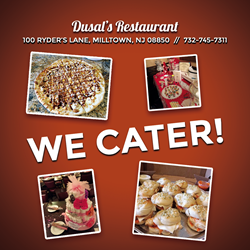 Excellent customer service has been the mantra of Dusal's for over 10 years.
Milltown, New Jersey (PRWEB) February 01, 2018
Owners, Brien and Vito, are inviting customers to participate in Dusal's amazing catering services for the upcoming year. After working hard to make Dusal's a restaurant where everyone feels like family, they are now offering their signature Italian cuisine for all your events.
Providing excellent customer service has been the mantra of Dusal's ever since they opened their doors over 10 years ago. It is with this same dedication and passion that they offer their amazing catering services to the public. While they do have a general catering menu from which customers can choose from, Brien and Vito also understand that not every event is the same. As such, they always take into account variable such as event size, formality, allergies, diet plans, and everything else that may require some menu alterations. Providing a tailored catering experience is Dusal's specialty.
The goal of Dusal's has always been to provide a little bit of Italy in Milltown, which they continually accomplish day after day. Their delicious menu options, as well as their overall service approach reflect their appreciation for the Italian culture. So while there are familiar menu items like calamari, chicken fingers, and cheese steak, they also provide more traditional options such as Tortellini Alfredo, Chicken Italiano, and Veal Florentine. Dusal's has thought of everything when it comes to their menu and will continue to take any further customer needs into account for all of their services.
The full catering menu can be found on their official website here. Catering is organized via in person meeting which can be scheduled by calling them at 732-745-7311. They continue to welcome customers to dine in with them from 11:30am - 9:30pm located at 100 Ryder's Lane, Milltown, NJ, 08850. They also invite readers to Like them on Facebook and Follow them on Instagram.