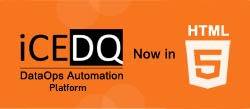 The rules engine in the upcoming release has a major performance improvement. With this iCEDQ will be able to solve not only the big data testing challenges but also help in report certification for compliance in turn operationalizing Data Governance 2.0 - Sandesh Gawande, CTO.
STAMFORD, CT (PRWEB) February 01, 2018
After expanding its user base by successfully acquiring multiple enterprise customers, Torana Inc. today announced the release of iCEDQ's revamped HTML-5 version. The change is part of an ongoing transition toward making the application more business user-friendly and secure. The company is currently focused on two major enhancements in iCEDQ – usability and performance. This version 12.0.0 delivers the promise of better usability and enhanced performance.
With this release, customers will get:

HTML-5 user interface
New and business-friendly user experience
Responsive UI that works on desktops as well as mobiles
Reactive interface
New REST API
New security model
"Torana created iCEDQ in 2008 and has been enhancing it continually. iCEDQ has been the first choice of Data Architects, CDOs, CIOs, QA Managers and compliance teams. It has steadfastly transformed DataOps activities through ETL Test Automation, Data Migration Test Automation and Production Data Monitoring. iCEDQ reduces or completely eliminates data risk by establishing checks and controls on the data pipeline," said Sandesh Gawande, CTO – iCEDQ, Torana.
iCEDQ Software Platform:
iCEDQ is a DataOps and Data Certification platform uniquely designed for Data Lake/Data Warehouse Test automation, Data Migration Test automation to the Cloud, and Big Data and Production Data monitoring.
It is used throughout the data lifecycle. During development, iCEDQ is used to test the data processes/ETL and data migrations to big data or the cloud. In production, it is used to certify both incoming raw data from sourced systems and processed data generated by internal systems.
It has a highly scalable audit rules engine that can validate the data or reconcile it based on business or technical rules. It can generate reports for compliance and regulatory teams and provide a root cause analysis based on data exception reports.
It allows for collaboration between development teams, operations teams, and business users.
What We Believe:
While billions have been invested in ETL and Data Migrations, less than 1% of these projects have automated testing for these data processes. Data quality is not only about the final data, but also the quality of the processes that transform and populate it. That's why we focus on overall data quality as well as the quality of the data processes that create it. Further, data quality cannot be an afterthought, so we believe that the process should start during the project's requirements phase, then continue throughout development, QA, release and the production phase.
Learn More:
About Torana Inc. (iCEDQ)
Torana Inc. (iCEDQ) provides a unified solution for DataOps and Data Certification by integrating ETL Test Automation, Data Migration Test Automation, and Production Data Monitoring. The software works in the datacentre to test and monitor the data pipeline. Torana has been in business for 12 years and has served the enterprise business with consistency. Data is the foundation of every business, and eliminating data risks is our mission. Our products are used in all kinds of verticals, like banking, insurance, healthcare, manufacturing, and e-commerce.
Learn more about the company at Torana Inc., and the product at iCEDQ