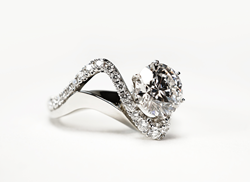 Rhea exhibits anarchitecturally inspired piece that is a departurefrom the traditional wedding ring.
LOS ANGELES (PRWEB) February 01, 2018
LACE by Jenny Wu, the leading 3D printing fine jewelry line, will launch Rhea, their first 3D printed solitaire engagement ring from their upcoming 2018 wedding ring collection on February 14, 2018. With the help of 3D printing technology, Rhea exhibits an architecturally inspired piece of jewelry that is a departure from the traditional wedding ring. With its unique asymmetrical curve and elegant twists, LACE embraces a bold elevated take on the classic solitaire ring.
Made to order, Rhea carries the detail and precision that only 3D printing technology can accomplish. Finished off with expert hand polishing and stone setting by their local craftsmen in downtown Los Angeles, LACE operates with the highest standard of ethics and care in mind and only sources conflict free or lab grown diamonds.
Rhea is the first ring to be revealed from the 2018 wedding ring collection and its expression is unique and timeless - a ring that would suit any woman who appreciates design and originality.
Resources for the Media
Since its launch in 2014, LACE began as a cult favorite in the design world and has quickly been embraced by fashion and tech communities as well as celebrities such as Scarlett Johansson, Jessica Alba, Carrie Underwood, Christina Aguilera, just to name a few. The collection has been widely known for its design and innovative production technique. Designed by Jenny Wu, a partner in the award winning architectural firm, Oyler Wu Collaborative, the LACE by Jenny Wu collection reflects Wu's architectural aesthetic, marrying line-based geometry with intricate organic movement to create avant-garde designs with high level digital refinement.
Designed in Los Angeles, California, LACE by Jenny Wu is available online and at its showroom in Silver Lake.