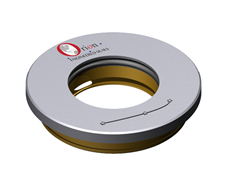 Cincinnati, Ohio (PRWEB) February 05, 2018
Orion Engineered Seals has received the patent for their Bearing Protection Device (BPD) from the US Patent Office. Their technology exhibits repetitive contaminant exclusion mechanisms, including their exclusive built-in flinger and static internal elastomers whether rotating or stationary. These features show how Orion has taken bearing protection to the next level. Orion doesn't categorize their superior design as a labyrinth, but more as a bearing protection sealing system. Many OEM's and users of bearing protection devices have already transitioned to the Orion products because of their application knowledge and technological advantage.
Todd Brickson, Director of Engineering, explains Orion's BPD design was driven by technological differentiation and sound engineering principals. When designing our core Bearing Protection Device (BPD), the goal was to create the most effective and innovative bearing protection device yet available to the customer. It was important to be innovative in this competitive market and provide customers with a product that was not just different, but designed to truly increase their product or process reliability. The design clearly meets this expectation through the multiple internal layers of contaminant control features and engineered clearances. Todd also stated that these features are what truly distinguishes Orion's design from the competition and has created a new standard in bearing protection for rotating equipment.
Orion Engineered Seals (http://www.orionseals.com) has established a new bench mark in bearing protection technology. They are becoming a leader in engineered sealing products not only for protecting bearings, but also specialized product seals for an array of demanding applications. Having established an effective business model and strategy, their growth has been and continues to be impressive.