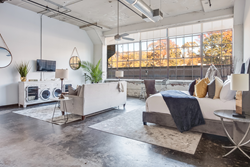 We hand pick furnishings and put detail, comfort and safety at the top of our priority list. Say's David Delpiano
ATLANTA (PRWEB) January 31, 2018
As vacation rentals become the preferred lodging option for many travelers looking for unique and cost effective places to stay over hotels, David Delpiano realized there was a better way to operate rental properties. Noticing a disconnect between property owners and property managers, Delpiano founded Restore Rentals, which has the unique structure of both owning and managing rentals. By eliminating the middleman, and consequently some overhead, Restore Rentals provides exceptional value for their guests.
What started as an idea in late 2016 has grown into a flourishing business, operating nearly 50 units that range from studio apartments to luxurious homes.
The company believes their operational style of trendy, fresh and clean properties is what todays travelers are looking for. Delpiano say's "While there are traditional furnished housing companies out there, he wanted to create something different and unique for guests that is a step above traditional vacation and or short/long-term rentals".
Each apartment and home that Restore Rentals operates features stylish furnishings and décor. Delpiano says, "We hand pick furnishings and put detail, comfort and safety at the top of our priority list". This process is done for each property and unlike traditional rental companies that may create one standard look, Restore Rentals prides themselves on the fact no two properties are the same.
Restore is redefining the vacation rental business by focusing on guest service, an aspect that is often left behind in an increasingly self-service style of lodging. Although some Restore Rentals properties do offer an automated check-in system, the team ensures that they are always available to answer guest questions or provide recommendations. Restore also takes care to accurately depict their properties online so guests' expectations are met or exceeded when experiencing the properties in person. Restore Rentals selects only the most ideal locations in safe neighborhoods, and their properties are always in close proximity to restaurants and attractions.
Restore Rentals not only markets their property inventory on third party sites like Airbnb and HomeAway, but they also built a network for loyal repeat clients. With stylish properties in ideal locations and friendly service, Restore Rentals has founded a niche in the Film/TV Production Housing and Corporate Housing.
As a result of maintaining oversight over all parts of a guest's experience, Restore Rentals earns rave reviews from guests who appreciate their responsiveness, seamless check-in process, and quality of the decor and amenities. Guests often comment that the properties are spotless upon check-in and that they are in perfect location.
The praise from past visitors signals that Restore Rentals is building a base of loyal guests, with many reviews stating that the guests would like to stay at one of their properties again. This sentiment is fueling Restore Rentals' growth, as they continue to purchase property and negotiate long-term contracts with apartment communities in Atlanta and beyond. In the future, we can expect Restore Rentals "to expand into 3-4 more markets like Nashville, Orlando, Miami and New Orleans." David Delpiano says.
For a startup, Restore Rentals has big goals. But, based on their success in 2017, they have a sound business model and a mindset of service that will lead them to many more successful years.
For more information on Restore Rentals, visit their at http://www.restorerentals.net.
Email Restore Rentals at info@restorerentals.net or call 404-474-7377