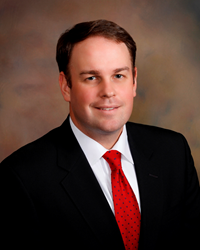 (PRWEB) February 06, 2018
Livesay & Myers, P.C. proudly announces the promotion of attorney​ ​Jonathan McHugh​ ​to the position of Senior Associate.
​Born in ​Boston, Massachusetts​, Mr. McHugh is a graduate of Wake Forest University and Catholic University Columbus School of Law. Upon graduating from law school in 2011, Mr. McHugh entered private practice as a family law attorney at a law firm in Vienna, Virginia. He then joined Livesay & Myers, P.C. as a family law associate in 2014.
​With over six years of experience as a family law attorney, ​Mr. McHugh is experienced in handling every type of family law matter in Virginia, ​including separation, divorce, custody and support cases. He has particular expertise with military divorce and cases involving the division of federal retirement benefits​. ​
Mr. McHugh​'s strong work ethic and commitment to client service​ have consistently translated into positive results for h​​is​ ​clients, who have rewarded​ ​Mr. McHugh​ ​with a large number of outstanding reviews and testimonials online.​ He was ​named a Super Lawyers Rising Star in both Virginia and Washington D.C. in 2017–2018.
M​​r. McHugh​ ​works in the​ ​Leesburg office of Livesay & Myers, P.C., and represents clients in ​Leesburg, Ashburn and all across Loudoun County and surrounding areas. ​He resides with h​is ​wife and daughter in Northern Virginia.
About Livesay & Myers, P.C.
Livesay & Myers, P.C. is a fast-growing ​family ​law firm with offices in Fairfax, Manassas​, ​Fredericksburg​ and Leesburg, Virginia. The firm was founded in 2003 by partners James Livesay and Kevin Myers. By 2016, the firm had made the annual Virginia Lawyers Weekly list of Virginia's Largest Law Firms, debuting at #64 (and moving up to #63 in 2017). Livesay & Myers, P.C. appears in the 2018 Edition of the U.S. News & World Report listing of Best Law Firms​ ​​as a Tier 2 firm in Family Law for the Washington, D.C. region.