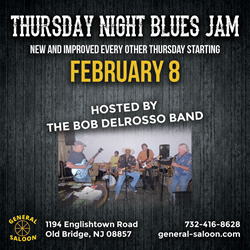 Brien and Vito have impressively brought food lovers and music lovers together under one roof
OLD BRIDGE, N.J. (PRWEB) February 01, 2018
General Saloon is officially under new ownership and are ready to give customers exciting events to look forward to. The new owners, Brien and Vito, have been in the restaurant business for years now, excelling in filling bellies and putting on smiles. Their customer service mindset has made them famous in the Milltown and East Brunswick areas, and they are looking to bring that same expertise to Old Bridge in 2018.
Some events they have already started implementing are live bands on the weekends. Brien has taken charge when it comes to scouting and inviting local New Jersey bands to elevate the atmosphere on Friday and Saturday nights. The genre of these bands generally consist of different rock and roll variations. Including sounds such as country, heavy rock, alternative, indie, and blues, General Saloon is doing a great job of bringing an aesthetic variety to their weekend lineup.
Speaking of blues, General Saloon also plans to improve their usual Thursday Night Blues Jams. Starting February 8th, and every over Thursday afterwards, visitors are encouraged to dust off their own instruments and show off their musical skills to entertain the audience themselves. This will be done alongside General Saloon's usual invited band, The Bob DelRosso Band. It is a great opportunity to unite food lovers and music lovers under one roof, something Brien and Vito have impressively accomplished.
General Saloon is located at 1194 Englishtown Road, Old Bridge, New Jersey 08857. The restaurant opens at 10am every day with different closing times depending on the day of the week; they close 11pm Sundays and Mondays, 12am Tuesday through Thursdays, and 2am Fridays and Saturdays. Their full menu, including daily specials, happy hour times, as well as the lineup for the next live bands are all found on their official website here. They also invite social media users to Like them on Facebook and Follow them on Instagram for future updates and deals.