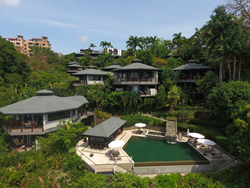 "We were humbled and thrilled ... to achieve a #2 ranking is beyond our wildest expectations." Tom Paul - Tulemar Bungalows and Villas.
MANUEL ANTONIO, Costa Rica (PRWEB) January 31, 2018
Tulemar Bungalows & Villas, located in Tulemar Resort, has been recognized as the #2 hotel in the world by TripAdvisor in its 2018 Travelers' Choice Top Hotels in the World List, announced in January.
"We were humbled and thrilled when we ranked #9 in the world in 2017, but to achieve a #2 ranking is beyond our wildest expectations," said Tom Paul, Manager of Tulemar Bungalows and Villas. "We are extremely grateful to the guests who have come to our part of Costa Rica, for a lasting and treasured life experience. But we also recognize that without the hard work and support of our Tulemar team, entrusted with delivering a world class experience to those guests, this acknowledgement wouldn't be a reality."
TripAdvisor Travelers' Choice award winners were determined based on the millions of reviews and opinions collected in a single year from TripAdvisor travelers worldwide. In the 16th year of the awards, TripAdvisor has recognized 8,095 properties in 94 countries and eight regions worldwide. The hallmarks of Travelers' Choice hotels winners are remarkable quality, service and value.
"We are indebted to TripAdvisor as a means by which our guests can reach out to one another and recommend Tulemar as a magnificent destination resort," said Paul. "We have had over 2,500 reviews and our average rating is 5/5, so we can't ask for better than that."
Located in the gated Tulemar Gardens Condominiums, Costa Rica, Tulemar Bungalows and Villas has been earning global recognition as one of the world's top resort hotels, recently voted #1 in the categories of Top Hotel – Costa Rica, and Top Hotel – Central America.
"These generous recognitions speak volumes about the natural beauty of Costa Rica, the verdant beauty of Manuel Antonio, and the commitment and responsibility we at Tulemar take in being able to present this area to the world," said Paul
-30-
About Tulemar Resort: Set in 33-acres of Tulemar Gardens, Tulemar Bungalows and Villas features a variety of standalone accommodations, nestled in a lush rainforest overlooking the beautiful Manuel Antonio coastline. Surrounded by nature, Tulemar Resort features incredible gardens, walking paths, thriving wildlife, and the only exclusive sandy beach in the region.
For more Information:
Jamie Gripich
Director of Public Relations
Phone: 1-800-518-0831
E-mail: pr(at)tulemarresort.com
Website: http://www.TulemarResort.com
Facebook: http://www.facebook.com/TulemarResort
For more Reservations & General Inquiries:
Phone: 1-800-518-0831
E-mail: reservations(at)tulemarresort.com