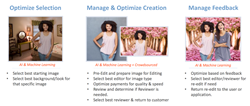 PALO ALTO, Calif. (PRWEB) February 01, 2018
Krome Photos, Inc., a leader in photo-tech and a leading digital photo editing service, today announced the launch of their Krome image operations system (Ki.OS) enabling photo editing for business or personal purposes. Krome is transforming how image is created for families, small businesses and online influencers - those using photos to engage, influence or sell. Krome's service allows anyone to start with a photo and place a request to Krome's designers for a beautiful and creative image.
"We have mothers using Krome for their family photos, influencers using Krome for the images they post to engage their followers, and small businesses using Krome for their marketing and advertising campaigns," said Eduardo Llach, CEO and founder Krome Photos. "Krome's new platform improves, by an order of magnitude, the cost, efficiency and quality of edited photos by leveraging Krome's proprietary AI and crowdsourcing technology."
Krome is using Ki.OS for creating images for its own services on the 5 Krome Studio applications on iPhone, Android and Web as well as using it for partners. CaptureLife is a partner using Ki.OS for creating image variations of children's school photos. Krome is developing new applications for vertical image solutions like printing, better digital ads, better profile images for professional or dating apps, and many more applications that have specific image requirements.
Ki.OS is a platform for applications that uses technology, AI, and crowdsourced systems to create the image requested, or required, for the application. For more information, please visit krome.io (http://krome.io/)

Ki.OS manages all the resources (technology, AI, or person) to
1. Select the best original image for the highest quality edit
2. Select the best background, or look, based on the original image
3. Select the best editor (AI or person) for the type of image such as selfie vs baby
4. Select the best reviewer (AI or person) for the type of image
5. Return the edited image back to the user or application

Ki.OS then manages any resulting feedback, including a re-edit request for a variation on the resulting image.
Ki.OS has two sets of API's, with SDK's coming, for applications to access its resources and create images.
About Krome Photos
Krome Photos, Inc. is the leading digital photo editing service and is the only service that enables consumers and businesses to control their online persona through creative editing of digital photos at a fraction of the cost of most editing services. Krome photos uses a proprietary, AI driven platform that connects trained human editors across the globe to any digital photo submitted and therefore, is available 24/7 seven days a week. Headquartered in Palo Alto, Calif., Krome Photos operates globally. For more information, please visit kromephotos.com or follow us on Instagram, Facebook and Twitter.