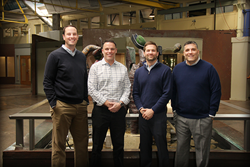 We are excited to add Brian to our Senior Leadership Team, as we have had over a year's worth of experience working with Brian via EagleDream Technologies
ROCHESTER, N.Y. (PRWEB) February 01, 2018
Top catering management company, CaterTrax Inc., announced Brian Baniewicz has been appointed to Chief Information Officer effective January 16, 2018. Brian joins the company with over a year's worth of experience working with CaterTrax Inc. as a consultant.
Before officially joining the CaterTrax team, Brian worked for EagleDream Technologies for 4 years, most recently as Vice President of Application Development. While with EagleDream, Brian worked closely with CaterTrax through a long-term contract and is stepping into this new role with significant knowledge of the company's platform, development road-map, and team.
"We are excited to add Brian to our Senior Leadership Team, as we have had over a year's worth of experience working with Brian via EagleDream Technologies. Brian brings a solid background of the current CaterTrax technology and business model as well as technical leadership capabilities," said co-founder and CEO, Rich Rund.
Brian has over a decade of experience in Information Technology, specializing in comprehensive life-cycle software development for various industries. Prior to his time at EagleDream, Brian worked at Brand Networks, Windstream Communications, Paetec and Xerox in various roles in the software development life-cycle – from development to leadership to partner relationships. Much of Brian's experience has been spent in partner engineering, working with business and technical stakeholders inside and outside the organization to realize success.
"Working in technical leadership roles has given me an eye for understanding what a stakeholder is trying to do and the best way to leverage a software's flexibility to achieve it. I used to coach football and it's a similar idea – you bring a group of people together and breakdowns barriers to improve the workflow so your team has the best play to drive towards the goal. Our technology teams are aligned to meet the expectations of our client and I'm looking forward to honing in on that family spirit that is so pervasive in this company and leveraging it to continue fueling innovation," shared Brian.
In his new position, Brian is assuming the responsibilities of co-founder and current CIO, Dan Welch, who is looking to transition out of the company's day-to-day operations in the coming months.
"As the next chapter begins, I am excited to think about all that lies in front of us. There is still much work to be done, and many opportunities on the horizon, as we strive to achieve our vision. Brian's development strengths help to pave the way toward executing on that vision and I'm confident his leadership can help our technology teams continue to deliver on our company promise, putting clients and partners first, as we strive to design solutions the exceed industry expectations," shared Dan Welch.
About CaterTrax
CaterTrax Inc., a business unit of Volaris Group, is an industry leading catering management software company that was built by caterers for caterers. Primarily serving the non-commercial foodservice industry, CaterTrax Inc. provides flexible solutions to multi-unit contractors across the United States and Canada, streamlining enterprise management for the largest managed hospitality providers in the country. Affectionately referred to as TRAXERS, over 7,500 operators, across multiple lines of business, use CaterTrax's TRAX Platform to manage their business, Read their stories here.
About Volaris Group
Volaris acquires, strengthens and grows vertical market technology companies. As an Operating Group of Constellation Software Inc., Volaris is all about strengthening businesses within the markets they compete and enabling them to grow – whether that growth comes through organic measures such as new initiatives and product development, day-to-day business, or through complementary acquisitions. Learn more at http://www.volarisgroup.com.