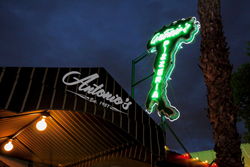 "He didn't like the way the family was running the business," said Alexandra Lunardon
OXFORD, Miss. (PRWEB) January 31, 2018
Antonio's Pizzeria and Italian Restaurant in Sherman Oaks, California has been inducted into the Pizza Hall of Fame, which celebrates America's oldest and most beloved pizza restaurants.
Created by PMQ Pizza Magazine, the world's authority on pizza, the Pizza Hall of Fame, located at http://www.PizzaHallofFame.com, pays tribute to the rich cultural history of American pizza and honors the perennially popular U.S. pizzerias that have been in business for 50 years or longer.
By the 1950s, brothers Antonio and Carmen Miceli had already made it in Hollywood. Their Miceli's restaurant in the heart of America's entertainment capital had been going strong since 1949. But after a family rift erupted, Antonio decided to blaze his own path in the Valley, renaming the restaurant Antonio's in 1958.
"He didn't like the way the family was running the business," recounts Alexandra Lunardon, current co-owner of Antonio's with brother Steven. "There were debates on the recipes; maybe the family was looking to cut costs. But Antonio wanted to keep everything as it was."
Lunardon hired a PR agency last year to celebrate Antonio's 60th Anniversary and is looking to bottle the famous Antonio's salad dressing for retail. Despite the ever-whirring grind to succeed, Lunardon is proud of the identity and old-fashioned values of Antonio's. "When you walk in for the first time, you're part of the family," she said.
Conceptually, the Pizza Hall of Fame has existed for nearly 10 years, since PMQ publisher Steve Green inducted Lombardi's Pizza in New York on November 1, 2005. The Pizza Hall of Fame website was launched in October 2014 as part of National Pizza Month. All inductees have been featured in the "Pizza Hall of Fame" section of PMQ's print magazine.
"Pizza is such an integral part of the American experience," Green said. "We wanted to commemorate its role in our culture. Every pizzeria in the Pizza Hall of Fame—and each one that will be inducted in the future—is a local landmark. These pizzerias are more than restaurants—they are institutions in their communities."
Visit http://www.PizzaHallofFame.com to learn more about this story and others in the Pizza Hall of Fame. For more information about PMQ Pizza Magazine, visit http://www.PMQ.com.
###