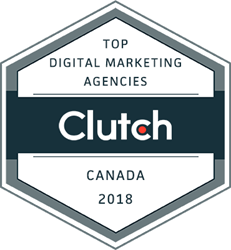 The entire GoTo Marketers team is thrilled with the recognition!
(PRWEB) January 31, 2018
On January 30, 2018, GoTo Marketers Inc. (GTM) was recognized by Clutch as the leading marketing agency in digital marketing and a Top-5 agency in email campaign management and content creation services throughout Canada. It was also noted as a contender in three other categories for Branding, Strategy and PPC.
As part of its market offering, Clutch announced its market leaders for the UK and Canadian marketing and advertising agencies. Clutch is a leading online business directory for B2B service companies and uses data-driven content, analyst interviews and client reviews to validate and rank market leaders. Clutch provides insights and guides buying decisions for companies when selecting a vendor.
GoTo Marketers is a full-service digital marketing agency providing a range of services to technology and professional service companies.
"We are honored that GTM has been recognized as a top digital agency for the value and quality of service we provide our clients," stated William Goddard, President and CEO. "When we started the company during 2012, our objective was to differentiate ourselves by offering Marketing-as-a-Service and to become an extension of our clients' marketing team to help them achieve their goals. This recognition further demonstrates our mission was on point."
Being included in the Clutch leader's matrix is based on GTM's areas of focus and its proven ability to deliver. Clutch's methodology for ranking suppliers is based heavily on client interviews, references and reviews, clients' experiences working with the agency, the agency's presence in the marketplace and its services. Clutch acquires insights about agency candidates, such as GTM, through analysts' interviews with an agency's clients and vendors that provide quantitative data to support Clutch analysts' findings.
GoTo Marketers was recognized as a Market Leader in the following categories:

GoTo Marketers attributes its growth and success to being able to deliver high-quality digital services and accompanying tactics to its clients on time and within budget.
"We work hard to exceed our client's expectations and this has been demonstrated by their reviews of our work and the recognition of Clutch with this announcement," said Goddard.
Learn more about GoTo Marketers services
About GoTo Marketers Inc.
Founded during 2012, GoTo Marketers is a leading digital marketing agency with a focus on B2B marketing for leading international technology, professional services and training and consulting-services companies. GoTo Marketers focuses on sales and marketing alignment, and brings all the skills, tactics and creativity of its professional associates to bear in support of its clients' marketing needs to ensure they receive the most from their marketing investments.