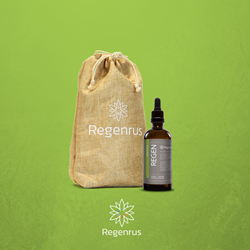 Our core values are focused on improving quality of life in all we do for People, Animals, and our Planet. We accomplish this through the incredible science behind our products, our social sharing business model, and building together a Social Impact Community," says Tysinger.
PORTLAND, Ore. (PRWEB) February 02, 2018
Regenrus is a woman-owned, women-led, science based, and heart-centered social impact company that is working to bring a Mindful Marketplace to the world filled with products that are carefully curated based on quality and commitment to regenerative practices. The company is honored and excited to announce that its flagship offering, REGEN, is now available on their new online shopping site.
REGEN utilizes extracts from carefully selected plant allies to provide key benefits for body and mind from potent bio-active nutrients. Hemp oil extract, Aloe vera (in the form of their proprietary blend, RegenAloe™), and Turmeric, combine to provide deep and rigorously-validated positive impact on the many systems the body relies on to thrive. This potent liquid supplement supports the EndoCannabinoid, Nervous, Immune, Circulatory, and Digestive systems, and can help support the body how and where it needs it. REGEN is the perfect complement to an active lifestyle, providing wholistic benefits as a cornerstone of any integrative health and wellness program.
Regenrus recognizes that the benefits received from nutrition is determined by how well the body can absorb them. REGEN utilizes a liposomal encapsulation delivery system to enhance the benefits of each milligram of ingredient by mimicking the way our own cells store and transport nutrients, utilizing a phospholipid bilayer to encapsulate and protect the valuable extracts inside. This delivery process allows the tiny drops of our extracts to be readily absorbed and easily integrated into the body's cellular systems, promoting healthy and balanced activity.
"Our core values are focused on improving quality of life in all we do for People, Animals, and our Planet. We accomplish this through the incredible science behind our products, our social sharing business model, and building together a Social Impact Community that is a Force for Good. REGEN is our first exclusive signature product specifically designed to support our body's innate physiology to heal itself through ingesting ancient plants perfectly provided by nature. We are grateful to all those who supported us to follow our dream and launch our vision into reality." - Cindy Tysinger, Founder and Chief Culture Officer, Regenrus
With REGEN, the company brings people and the community at large to a lasting state of homeostasis, a state of balance and well being that persists and resists the many challenges endured in the modern environment. Regenrus tests all products to ensure they are free from harmful adulterants, such as pesticides and heavy metals, and vets their manufacturers for social responsibility. The company also is rigorous in its search for ingredient suppliers that are dedicated to helping the environment and creating lasting positive social impact through regenerative agricultural, manufacturing, and processing practices.
"It is a thrilling pleasure to see a product emerge from research, to formulation, to manufacturing, through design. Like a dream slowly materializing into reality, REGEN has finally come into the world and is ready to change lives. As the President of Regenrus and formulator of our product, I would like to say that it brings me enormous pride to see how our team has worked together to get to this point. This moment holds enormous hope in my heart for not only our community, but for the world. With every sale of REGEN and our other products, we make a statement that we care. We care for ourselves and our health and that of our loved ones. We care about the world around us and parts of the world we will never see. Every drop of nutrition contributes a little bit to making change and improving the condition of the People, Animals, and Planet that embody our reality. As the technologist and systems thinker Buckminster Fuller once said, 'We are called to be the architects of the future, not its victims.' At Regenrus, we heed this calling - we work every day to bring about a future that serves everyone, that regenerates the health of our bodies and our world, a future where everyone acts through the guidance of the hearts, and no one is left behind." - Emmett McGregor, Chief Innovation and Collaboration Officer, Regenrus
To learn more about Regenrus products, how the company supports People, Animals and the Planet, or for additional information on joining the Regenrus network of entrepreneurs, visit their website at https://www.regenrus.com/.
ABOUT REGENRUS:
Regenrus promotes charitable giving and on-the-ground volunteerism for affiliates as part of its "B the Change" commitment to benefit company values. The company has committed itself to cultivating a responsible supply chain to assure products do good for both the body and the world.
The Regenrus platform integrates disruptive education, marketing and business management technologies to enable community members to educate themselves on best business practices and launch their own independent sales enterprise to complement their existing passions and commitment to giving back. Giving back is the company's No. 1 priority.