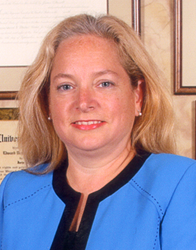 BRADENTON, Fla. (PRWEB) February 01, 2018
Attorney Terri F. Cromley, of Carlson, Meissner, Hart & Hayslett, P.A., was recently recognized by Florida Trend's Florida Legal Elite™. The list of 1,080 honorees, published in Florida Trend magazine, includes attorneys in private practice, as well as top government and non-profit attorneys.
Attorney Cromley, a Managing Partner of the Bradenton office of Carlson, Meissner, Hart & Hayslett, P.A., focuses on workers' compensation and social security disability law. A member of the Florida Bar, the Sarasota Bar, and the Manatee Bar Association, attorney Cromley is also former President of the Manatee Chapter Florida Association for Women Lawyers. Attorney Cromley is an active member of the Bradenton community, serving as a member of the Manatee Chamber of Commerce, Anna Maria Chamber of Commerce, and Manatee Young Professionals. Attorney Cromley earned a J.D. degree from Stetson University College of Law in St. Petersburg.
In compiling the list of Florida's Legal Elite, Florida Trend magazine invited all actively practicing Florida lawyers to name the attorneys that they hold in highest regard – lawyers with whom they have personally worked and would recommend to others. The winner list represents just over 1% of the active Florida Bar members who practice in Florida. Florida Bar President Michael J. Higer notes, "The Florida Bar is committed to connecting both our members and the public with the legal resources needed to support their practices, businesses and daily lives. Florida Trend's Legal Elite helps accomplish this objective by creating an independent and reliable process to identify our state's top legal talent and rising stars."
"Florida Trend's 250,000 readers are executives who rely on the legal community for many crucial corporate assignments," says Publisher Andrew Corty. "When we first published Florida Legal Elite in 2004, our goal was to provide a resource for our readers. Over the past 14 years, I've heard many accolades about the program. Florida Legal Elite is a guide to selecting a trusted legal partner to handle delicate business concerns. Our website, FloridaTrend.com, offers another pathway for the dissemination of this key information." The entire Legal Elite report can be viewed at FloridaTrend.com/Legal-Elite.
Carlson, Meissner, Hart & Hayslett P.A. has been serving the Tampa Bay area community for more than 46 years, with a proven track record of success and a reputation for excellence. For more information about the firm, practice areas, and the services provided, visit the firm website at CarlsonMeissner.com or contact the office directly at 877-728-9653.